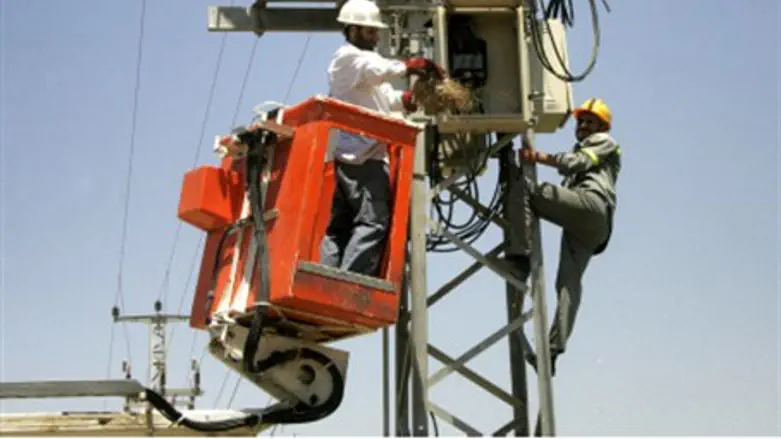 Gaza electricity workers (file)
Flash 90
Israel Electric Company (IEC) workers are not in the midst of restoring electricity to Gaza on Monday evening, contrary to reports.
Earlier, IEC workers were seen wearing protective gear, and were assumed to be restoring power to Gaza after a rocket fired at Israeli civilians hit a major power center earlier this week. 
IEC workers are restoring power to Israelis, the IEC clarified, and are wearing protective vests and helmets to protect themselves from the rockets aimed at killing Israeli civilians. 
On Sunday, a rocket fired from Gaza hit a major power center, leaving 70,000 Gazans without electricity. 
Prime Minister Binyamin Netanyahu initially declined to send workers into Gaza to fix the power station, citing safety concerns. 
Israel provides 100 megawatts of electricity to Gaza on a regular basis, much of which is purchased by the Palestinian Authority (PA), which owes Israel 1.4 billion shekels (nearly half a billion dollars) for unpaid electric bills.
Several months ago, the director of the Israel Electric Corporation (IEC) called on the Israeli government to cut off the supply to the PA until it pays its debt.