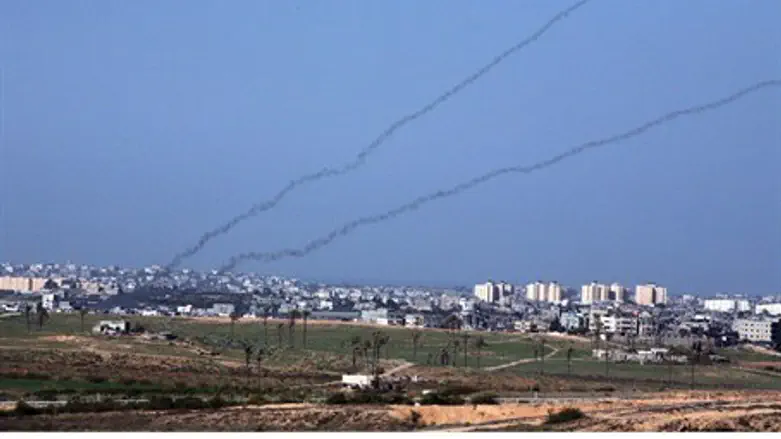 Rocket trails streaking out of Gaza
Flash 90
Gaza terrorists fired several volleys of rockets at Israel's southern cities and communities Monday morning.
Starting at 11:00 a.m., rockets were fired at Ashkelon and the industrial area next to it, Ashdod, and communities in the Hof Ashkelon, Hevel Yavneh, Yoav, Be'er Tuvia and Shaar Hanegev regions. Two of the rockets were successfully intercepted by the Iron Dome batteries,
A rocket exploded in the yard of a home in Ashdod. An 8-year-old boy was slightly injured in his hand. He received treatment from local Magen David Adom teams.
Another rocket scored an indirect hit on a home in the Hof Ashkelon region. The home was slightly damaged but no one was hurt.
Hamas TV broadcasted a message from Hamas's armed wing, following the interception of a drone over Ashdod. The announcement said that Hamas had sent several drones to carry out "special missions" deep in Israeli territory, and promised more details later.
Defense Minister Moshe Yaalon said Monday that Israel "continues to pulverize Hamas and its frastrctures."
The damage done to Hamas and the other terror organzations in Gaza is "huge," he added. "Hamas is trying to attain an achievement at any price, and we must maintain top readiess and alertness." The launching of a drone at Ashdod and its interception are examples of Hamas's continued attempts to hurt Israel in any way possible, and of Israel's preparedness, he explained.