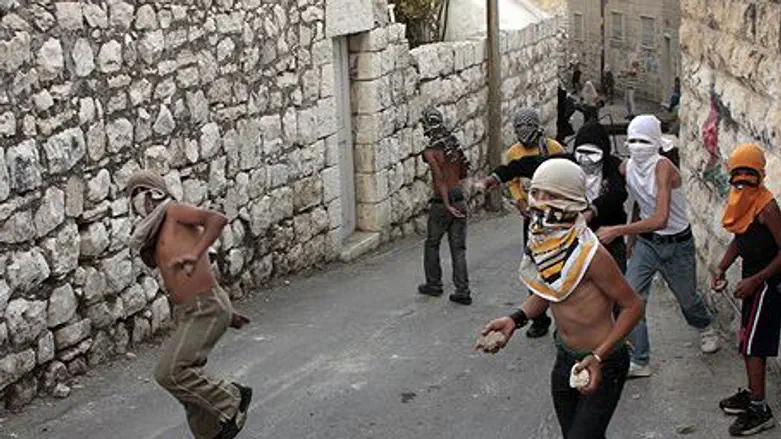 Rock-throwing Arabs
Israel news photo: Flash 90
The list of roads where Israeli drivers need to be careful lest they be hit by Arab rock throwers now includes Route 6, the Trans-Israel Highway. In an interview with Arutz Sheva, members of the Aviv family of Jerusalem discussed their experiences Saturday night, when they were subjected to a barrage of rocks as they drove home from Hadera to Jerusalem on Route 6.
It should be noted that Route 6 traverses Israel from north to south, entirely within the 1948 armistice lines - the "Green Line." Now, however, it joins the list of roads in Judea and Samaria and northern Israel on which drivers need to be aware of possible rock attacks.
Dekel Aviv, head of the household, was driving the family car along the road. Several minutes after he drove passed the Nitzanei Oz exit (the exit to Netanya) he was faced with a huge rock that was thrown at his vehicle. The car's front headlights were smashed by the rock attack, with shards of glass entering the vehicle.
Mrs. Aviv was sitting in the back seat with two children, ages two and four. When the rock struck the car, she thought she was experiencing a rocket attack. Aviv himself did not panic, he said, and continued to keep both hands on the wheel.
On Sunday, Aviv filed a complaint with police. The rock was thrown in an area where an Arab village is located. Police told him that his was not the first incident of rock-throwing that had taken place on that section of Road 6.
All members of the family are suffering from emotional trauma, Dekel Aviv said.