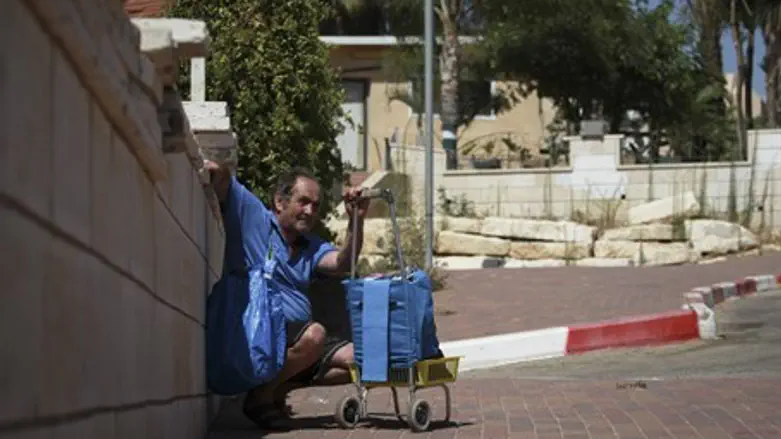 Elderly Sderot man takes cover after siren
Flash 90
Rabbi David Fendel, dean of the Afikei Da'at hesder Yeshiva in the rocket-beleaguered city of Sderot near Gaza, told Arutz Sheva about the unity and strength of the city, while noting the clear messages brought by the recent rocket escalation.
"Today more than I ever I think everybody realizes the hideous mistake of the Disengagement, and that a mistake like this can't be repeated in Judea and Samaria," said Rabbi Fendel, referring to the 2005 Disengagement plan that uprooted all Jews from Gaza.
The Sderot yeshiva dean added "the people of Sderot are very strong, and are willing to accept whatever is necessary so that the army should do its job."
The recent showering of rockets on Israel has brought the point home for many that the Disengagement paved the way for Hamas's terror war on Israel.
Since Operation Protective Edge began on Monday, terrorists have fired 407 mortars and rockets that struck Israel, with another 118 rockets being shot down by the Iron Dome anti-missile defense system.
Dror Vanunu, a former resident of Gush Katif who was expelled from his home in the Disengagement, told Arutz Sheva this week "what was clear to every boy and girl in Gush Katif - that the uprooting won't contribute to peace but rather the opposite - today permeates the perception of the entire Israeli public."
"We defended the state of Israel with our bodies, and not only did we not run, rather the population of Gush Katif grew after the Oslo War (Second Intifada) by 40%," stated Vanunu.