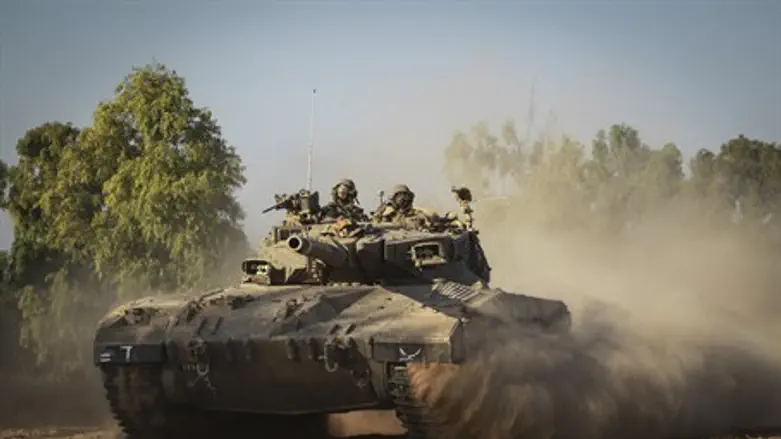 IDF tank near Gaza border
Flash 90
The IDF on Thursday afternoon contacted by phone Arab residents of Gaza living near the security border, warning them to evacuate their homes immediately.
The phone calls were sent to a total of roughly 100,000 Arab residents of the Hamas stronghold. Among the cities and towns targeted in the phone warning were Beit Lahia, Beit Hanoun, and Absan, according to Walla!.
In the phone warning, residents were told to evacuate and go to the west or south, in order to avoid civilian casualties.
Over 800 terrorist targets have been struck as of Thursday in Operation Protective Edge; the latest phone warnings indicate that the operation may be moving into a new stage and entering a ground offensive.
The government has already approved a call-up of 40,000 reserve IDF soldiers, with 20,000 having already been called up to the Gaza border in anticipation of a possible ground incursion.
Ahead of the phone warning today, Defense Minister Moshe Ya'alon on Wednesday announced that the operation would be expanded in coming days.
"We will continue to hit Hamas and other terror groups in the (Gaza) Strip with heavy blows from the air, from the sea and from the ground so as to ensure the security of Israeli citizens. The campaign against Hamas will expand in the coming days, and the price the organization will pay will be very heavy," warned Ya'alon.
Following Ya'alon's tone, IDF Chief of Staff Lt. Gen. Benny Gantz on Wednesday approved all of the plans for an IDF ground offensive into Gaza according to IDF Spokesman Brig. Gen. Moti Almoz, who added that the pressure on Gaza will grow in the coming hours.
Also Wednesday, Prime Minister Binyamin Netanyahu warned that Israel would continue to expand the scope of Operation Protective Edge until rocket fire stopped.
"We are all united in the mission to strike at the terrorist organizations and restore quiet," the prime minister said in a statement following consultation with Israeli military chiefs. "The operation will be expanded and will continue until the firing at our communities stops and quiet is restored."
"I ask that the public continue to listen to the instructions from IDF Home Front Command – they save lives," he added
And on the same day, outgoing President Shimon Peres said in an interview that "if they won't stop their missiles, there will be a ground attack. That is the logical conclusion."
Hamas has been showering Israeli civilian population centers with rocket fire in recent weeks. Several people have been injured and large parts of the country have been shut down as terrorists utilize long-range rockets to reach central Israel, and as far north as the port city of Haifa.