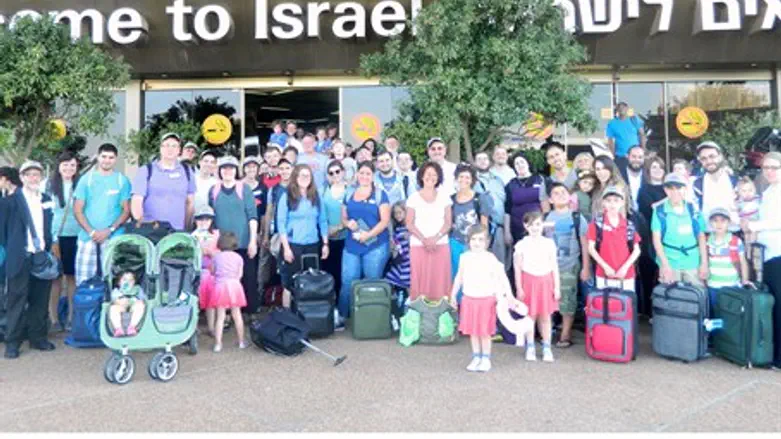 The new arrivals at Ben Gurion Airport
Nefesh B'Nefesh
Making Aliyah is never an easy task, and leaving family, friends and memories behind is enough of a challenge for any new oleh.
But imagine making Aliyah under fire.
That is precisely what 26-year-old Becky Kupchan - one of the 64 new olim who arrived today from the USA - is doing. She is moving from Chicago straight to the southern Israeli city of Be'er Sheva, despite the fact that the city, like other Negev communities, is currently being rocked by waves of rocket-fire from Gaza.
Kupchan was part of a flight chartered by Nefesh B'Nefesh, in partnership with the Ministry of Aliyah and Immigrant Absorption, the Jewish Agency for Israel, KKL and JNF-USA.
Israel's newest citizens are a typically diverse bunch; they range in age from 8 months to 91 years, and hail from Connecticut, Florida, Georgia, Illinois, Maryland, New Jersey, New York, Ohio and Virginia. Their choices of new communities are also varied, including Beit Shemesh, Givat Shmuel, Hadera, Jerusalem, Karmiel, Modiin, Nes Tziona, Ra'anana, Ramat Beit Shemesh, Ramat Gan, Tel Aviv and - for Becky - Be'er Sheva.
"Although the security situation in Israel is very tense right now, and in Be'er Sheva where I'm about to move rockets are falling, I am not afraid and I trust the Israeli government and the IDF," Kupchan said upon arriving at Ben-Gurion Airport. "I'm a Jew and I've always dreamed about making Aliyah to Israel, my home - and at home you always feel safe."
Not afraid: Becky Kupchan
Nefesh B'Nefesh
Nefesh B'Nefesh Co-Founder and Executive Director Rabbi Yehoshua Fass said he was inspired by the determination of the new arrivals, who did not delay their move in spite of the challenging security situation.
"The Olim who've chosen to make Aliya to Israel during these challenging days are real heroes, and each one of them fills our heart with pride and great inspiration," he said.
"Becky from Chicago, who has chosen to live in the city of Beer Sheva in the South, is one of them and we will do whatever we can to assist her in her new home in the State of Israel."