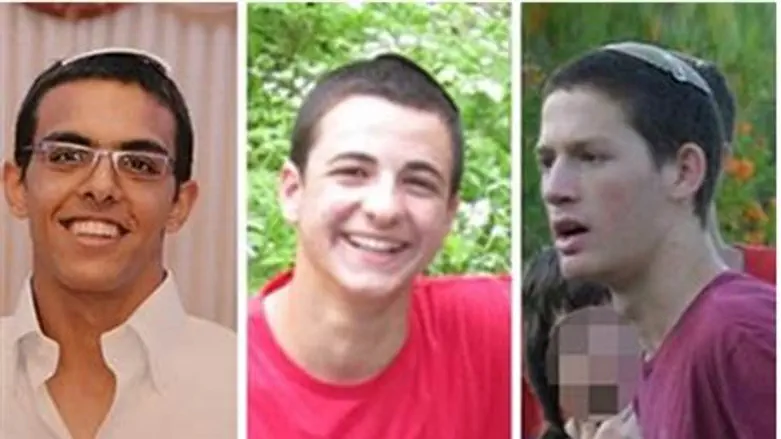 Murdered (L to R): Eyal Yifrah, Gilad Sha'ar,
courtesy of the families
Shmuel Shai Cohen, the grandfather of murdered Israeli teen Gilad Sha'ar hy"d, was interviewed alongside the father of murdered Arab teen Mohammed Abu-Khder on Tuesday on a Voice of Israel public radio show. 
Cohen immediately expressed his condolences to Abu Khder, emphasizing that the murder - which has been dubbed a "revenge crime" for Sha'ar's murder along with two fellow Israeli teens - is unacceptable.
"Vengeance is not acceptable to us," Cohen stated.
Cohen also asked Abu Khder to speak out against the murders of his grandson and two fellow teenagers, Naftali Frenkel (16) and Eyal Yifrah (19), noting that unlike Israel's leaders, who unanimously condemned Abu Khder's murder, some Arab leaders actually lauded the Jewish teens' murder.
"The applause of your leaders have turned a small group of murderers into a nation of murderers," Cohen stated. "Those who applauded this became accomplices to murder." 
Hussein, Abu Khder's father, replied evasively that this is a problem of the government of Israel. "The problem is that right-wing government does not want peace," he claimed. 
Cohen then asked Abu-Khder to clarify what he meant by his comments, and the position of Arab leaders supporting the murder of the yeshiva students, only to be told in response that the murderers could have been Jews.
"Nobody knows who killed them," Abu Khder fired. "You have no proof." 
He then rejected the possibility of a joint condolence call between the three Israeli families and the Abu Khder family. 
Abu Khder's body was found in the Jerusalem Forest Wednesday, sparking rioting across Jerusalem and nationwide.
Police suspect that the crime was nationalistically motivated, allegedly as a "revenge crime" for the murders of Israeli teens Naftali Frenkel (16), Gilad Sha'ar (16), and Eyal Yifrah (19). 
An initial pathologist's report, issued from Palestinian sources, stated that Abu-Khder was burned alive, with the teen suffering from severe burns on 90% of his body. 
The suspects arrested for the murder are Jewish; some are minors. They are residents of Jerusalem, the community of Adam north of Jerusalem, and Beit Shemesh.