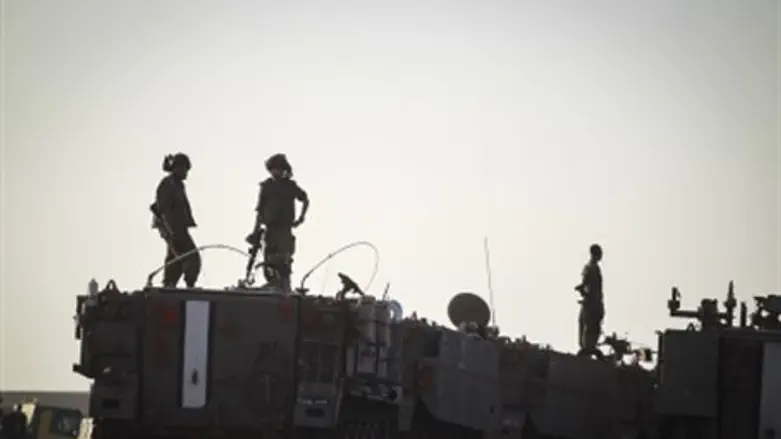 APCs outside Gaza
Flash 90
There is tension in the political and miltary air as the possibility of a concentrated Israeli strike on Gaza is becoming more realistic in recent days. 
Photos by Flash 90, approved for publication by the IDF, show a gathering of tanks, APCs and ground forces, identified as a Bedouin unit, on the outskirts of Gaza. This could be a last-minute warning to Hamas that if it does not immediately desist from firing on Israel, the IDF intends to mass larger forces and use them against Gaza in a ground offensive.
Israeli air strikes on Gaza killed seven Palestinian terrorists, medics said on Monday, after recovering two more bodies from a collapsed tunnel in Rafah.
Two additional terrorists were missing, believed dead, in the tunnel following the strikes, which came after a day in which terrorist groups fired at least 25 rockets and mortar rounds at southern Israel.
Two of the terrorists were killed east of the Bureij refugee camp in central Gaza in a missile strike, which came shortly before midnight, witnesses said.
The IDF confirmed targeting a group of people involved in "launching rockets from central Gaza."
Several hours later, two more terrorists were killed and two civilians wounded in a drone strike east of the southern city of Rafah which caused the collapse of a tunnel, emergency services spokesman Ashraf al-Qudra said.
The bodies of two more terrorists were pulled from the tunnel during the morning, with another two missing, he added.
The armed wing of the Islamist movement Hamas, which dominates Gaza, said that in total six of of its terrorists were killed in that strike.
The army confirmed a series of raids across Gaza, saying they had targeted "nine terror sites and concealed rocket launchers."
In a separate drone strike in Rafah, another terrorist was critically wounded, later dying of his injuries, Qudra said.
Medics said five civilians were wounded in the northern town of Beit Hanun after a rocket fired by terrorists fell short of Israel.
The Israeli military said it had hit a total of 14 targets overnight. It said terrorists had fired an anti-tank missile at an army patrol by the border fence, causing no casualties.
"An IDF (army) patrol was attacked along the security fence in the southern Gaza Strip. Initial indication suggests they were attacked with an RPG anti-tank missile and firearm. No injuries are currently reported," a statement said, adding that troops had returned fire.
Elsewhere, a soldier was lightly wounded by shrapnel after three rockets hit the Eshkol region which flanks central and southern Gaza.
Since midnight, terrorists in Gaza have fired 12 rockets at southern Israel.
The Gaza clashes came as violence raged across annexed east Jerusalem and Arab towns in Israel following the kidnap and murder of a Palestinian teenager in a suspected revenge attack by Jewish extremists who burned him alive.