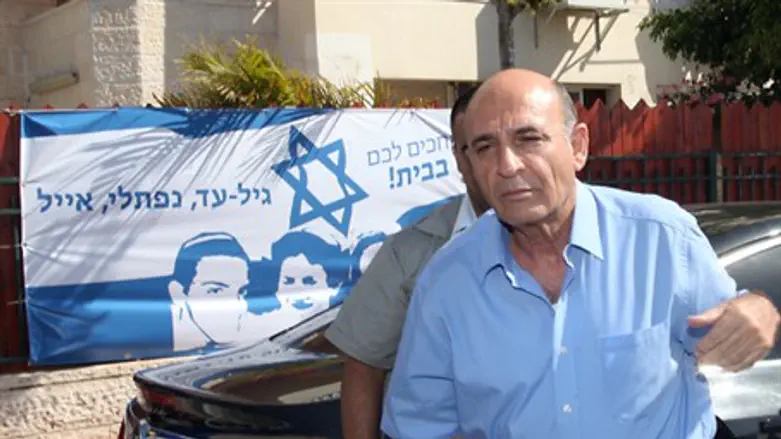 Shaul Mofaz at home of Eyal Yifrah
Flash 90
Kadima leader Shaul Mofaz on Wednesday blamed Prime Minister Binyamin Netanyahu for undermining Israel's deterrence of terrorism, in the wake of the funeral the day before of the three teens who were abducted and murdered by Hamas terrorists.
Mofaz, a former Defense Minister and IDF Chief of Staff, stated "Netanyahu's policy in recent years has caused Israel's deterrence to be eroded. The fact that Shabak (Israel Security Agency) foiled 44 abduction attempts in the last year and a half is very alarming proof."
"The abduction of the youths isn't just another attack. It's a serious signal as to the situation of Israel's deterrence. In these awful 18 days, dozens of rockets were fired on communities in the state of Israel. No country would allow that," added Mofaz.
Indeed the uptick in rocket fire from Gaza since the three teens were kidnapped included a mortar salvo during the funeral on Tuesday. 
A total of 15 rockets were fired at Israel by Gaza terrorists overnight Sunday and on Monday morning; security sources on Monday announced that Hamas launched the attack, reportedly marking a first since the end of Operation Pillar of Defense in November 2012.
While there has been a steady stream of rocket fire even since the Operation Pillar of Defense "ceasefire" that was brokered by Egypt, the Gaza-based Islamic Jihad terror group and terrorist factions other than Hamas have largely claimed the attacks.
The wave of rockets comes after a particularly damaging attack Saturday night, in which a rocket directly hit a plastics factory in Sderot, burning it down completely and injuring three people lightly.
Last month Mofaz commented on the statements by Arab MK Hanin Zoabi (Balad), in which she justified the kidnapping and said the kidnappers were "not terrorists."
"Hanin Zoabi, we've had it up to here with you," Mofaz said. "I did not plan to pay any attention to your stupid statements but I find it hard to hold it in and I must correct you – that is terrorism and you are encouraging terrorism. You belong in jail."