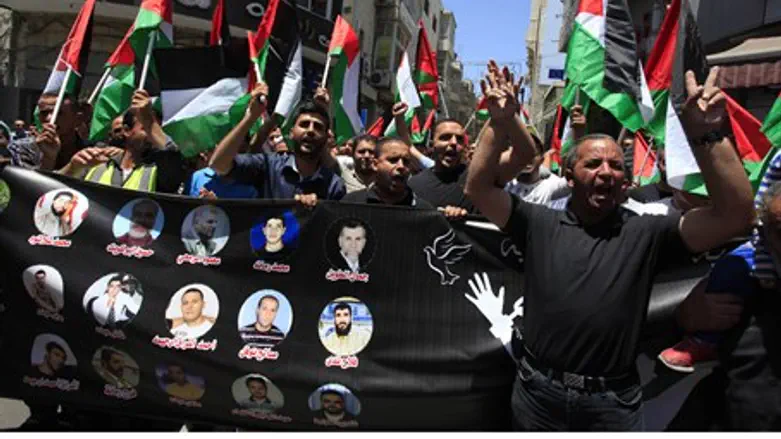 Rally supporting hunger-striking prisoners in
Flash 90
A controversial bill that would allow prison doctors to force-feed hunger-striking prisoners has been approved for its second and third Knesset reading. The bill passed through a hearing at the Knesset Interior and Environmental Protection Committee, which gave it the go-ahead for a vote.
According to the bill, "Prisoner hunger strikes are a known phenomenon that has repeated itself in Israeli society over the past several years, with different objectives for the promotion of public striking prisoners," the note states. "The strikes are often characterized by the participation of a large number of prisoners, and some of the prisoners are on a constant hunger strike for an extended period, which in some cases risks their lives. The situation requires the formulation of appropriate and suitable methods for dealing with hunger strikes."
Arab MKs dismissed the law as "despicable" and "inhuman." 
"Eight years ago we passed here a foiegras law which prohibits force-feeding geese," MK Isawi Frij (Meretz) stated. "They don't allow fattening up geese but they allow fattening up Arabs."  MK Ahmed Tibi (UAL), followed suit, saying the law is "inhuman" and lamenting the injustice to "a legitimate use of non-violent protest by people languishing in jail without trial."
Speaking Monday after the committee approval, MK Dov Hanin (Hadash) said that it was "a shame that the government was closing its ears not just to the pleas of those who feel force to go on a hunger-strike to get their point of view heard, but to the opinion of the international community and medical practitioners who have condemned this bill."
In a statement, United Nations Special Rapporteur on torture and the right to health urged MKs to reject the bill.
"It is not acceptable to force-feed or use threats of force-feeding or other physical or psychological coercion against individuals who have opted for the extreme recourse of a hunger strike to protest against their detention without charge and conditions of detention and treatment," said Juan Méndez, the UN Special Rapporteur. "Even if it is intended for the benefit of the detainees, feeding induced by threats, coercion, force or use of physical restraints are tantamount to cruel, inhuman and degrading treatment."
In an interview with AP,  Dr. Leonid Eidelman, the president of the Israeli Medical Association, said that "this law is unnecessary, it can be harmful and ... I believe it will not be implemented because Israeli doctors are not going to cooperate with this law."
Also opposed to the bill – but for different reasons – is Likud MK Moshe Feiglin. "What is this idea of force-feeding?" he asked. "If people want to die, let them die - it's not our problem."
"We are afraid of a situation that endangers our justice from prevailing," he continued. "I urge you to reject this law in disgust.''
Hunger strikes are a common tactic by Palestinian Arab terrorists to gain political visibility for their cause in the international community. Several weeks ago, hundreds of terrorist prisoners declared a hunger strike in "solidarity" with a Hamas prisoner's solitary confinement. After a media brouhaha, the terrorists ended the hunger strike just hours after it began. 
Some 1,550 Palestinian Arabs imprisoned in Israel ended a hunger strikein May 2012, in exchange for a package of measures which would allow visits from relatives in Gaza and the transfer of detainees out of solitary confinement.