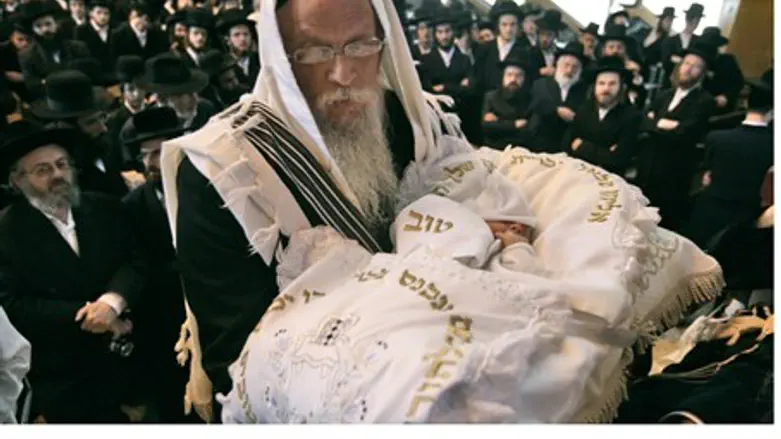 Brit milah (circumcision) ceremony (illustrat
Israel news photo: Flash 90
In a precedent-setting ruling, the High Court allowed a mother to refuse her son's circumcision despite the father's will. The Court overruled on Sunday a Rabbinical Court order that the baby be circumcised.
The High Court ruled that the only authority that can decide on the matter is the civil Family Court.
The ruling was handed down in an appeal filed by a woman who was ordered to circumcise her son by the Rabbinical Court, in the course of divorce proceedings from her husand.
The Rabbinical Court ordered that the son be circumcised in accordance with his father's wishes, and fined her 500 shekels for every day in which she fails to circumcise her son. The mother appealed to the High Court and claimed that the Rabbinical Court does not have authority on the matter of the brit.
A High Court panel headed by Judge Miriam Naor accepted the woman's argument.
The sole dissenter was Judge Elyakim Rubinstein, who said that "the Jewishness of a Jewish boy is one of the matters that can be included in divorce, for if we rule otherwise, [this would mean that] a parent cannot include a cardinal and essential subject regarding his decision about the life of his child in the separation arrangements from his spouse – which in my eyes is inappropriate."