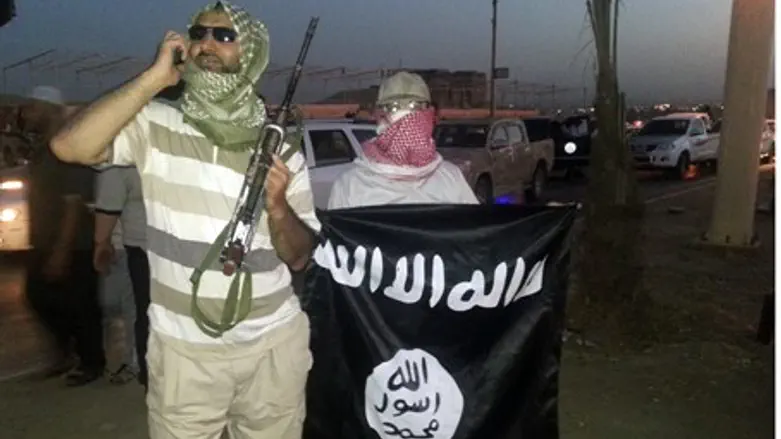 Jihadis from ISIS in Mosul, Iraq
Reuters
US President Barack Obama warned that "battle-hardened" Europeans who embrace jihad in Syria and Iraq threaten the United States because their passports mean they can enter the country without a visa.
Nearly 800 French citizens have spent time fighting in Syria's civil war, most of them fighting for the radical Islamic State of Iraq and the Levant, known as ISIS, according to latest estimates, and Belgium says 200 of its people have done the same. Britain puts its number at 400.
Those holding French, Belgian and British passports - along with a host of other European countries - do not need visas to visit the United States, meaning they can potentially avoid scrutiny.
"We have seen Europeans sympathetic to their (terrorists') cause traveling into Syria and may now travel into Iraq, getting battle-hardened. Then they come back," Obama warned in an interview that aired Sunday on the US broadcaster ABC.
These combatants "have a European passport. They don't need visas to get into the United States," he told This Week.
"Now, we are spending a lot of time, and we have been for years, making sure we are improving intelligence to respond to that.
"We have to improve our surveillance, reconnaissance, intelligence there. Special forces are going to have a role. And there are going to be times where we take strikes against organizations that could do us harm."  
Fears about Europeans returning from terrorist action were underlined when Mehdi Nemmouche, a French-Algerian who fought alongside ISIS in Syria for more than a year, was arrested over the murder of four people in a deadly shooting at the Jewish Museum in Brussels on May 24.
Responding to Obama, Republican lawmaker Peter King said the president's don't go far enough.
"He should be very aggressive on this. Syria is our biggest threat," said King, a member of the Homeland Security Committee and chairman of the Subcommittee on Counterterrorism and Intelligence.
"Not only are there thousands of Europeans who have visas to get into the United States going to Syria, but there are 100-plus Americans over there in Syria right now."
The US President's warning comes after revelations that CIA agents were sent to the UK in order to monitor jihadis there, amid concerns British intelligence are not doing enough to combat Islamist extremism.