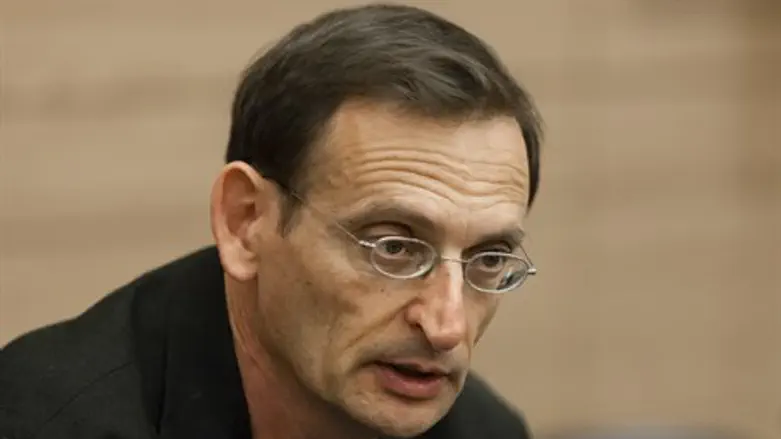 Dov Henin
Flash 90
MK Dov Henin of the Communist Hadash party on Friday condemned the death of an Arab rioter, who allegedly died from IDF fire while taking part in a riot, throwing molotov cocktails and stones at soldiers as they searched for the kidnapped teens.
"A 16-year-old youth was killed today in the territories. The youth, Jihad Mohammed Dudin, was killed by a bullet that hit his chest," wrote Henin on his Facebook page.
Henin claimed that an initial investigation of the incident suggests that IDF paratrooper units opened fire and hit the "wrong person," according to the MK, after they came under attack by molotov cocktails and rocks. The Arab Ma'an News Agency reported the incident occurred in the village of Dura, south of Hevron in Judea.
"This youth also deserved to return in peace to the embrace of his family," wrote Henin, making a comparison between the Arab rioter and the three yeshiva students, Eyal Yifrah (19), Naftali Frenkel (16) and Gilad Sha'ar (16), who were kidnapped by Hamas terrorists last Thursday.
He made those comments despite only yesterday condemning radical Arab MK Hanin Zoabi for her own controversial comments about he kidnappings, saying that sometimes it is better to keep quiet.
"There are times when it is best to keep quiet. There are times when one needs to be calm, and not lead in the direction of extremism and militancy," he told Arutz Sheva on Thursday, adding that at stressful times it is important to be responsible when speaking out and not take the opportunity to make more and more extreme statements.
The far-left Hadash party was established by the Israeli Communist Party (Maki), and consists of Arab and Jewish members. Henin two weeks ago declared he would deliberately disobey police orders and protest against the "occupation."
Operation Brother's Keeper, which aims to rescue the teens and break the Hamas terror infrastructure in Judea and Samaria, continues its search.
A senior IDF source said "the scope of the forces is very intense; it's the largest since (2002 counter-terror Operation) Defensive Shield, and it's giving signals."
The IDF arrested another 25 terrorists overnight Thursday, as the Nahal Brigade raided the town of Dheisha just outside Bethlehem in Judea; the Paratroopers Brigade raided Dura; and the 900 Brigade operated in Ramallah.
The IDF also operated in Shechem (Nablus), Kalandiya, and other places with a significant Hamas terror infrastructure, officials said. One soldier sustained light injuries from a stone lobbed at him by a terrorist in Kalandiya.