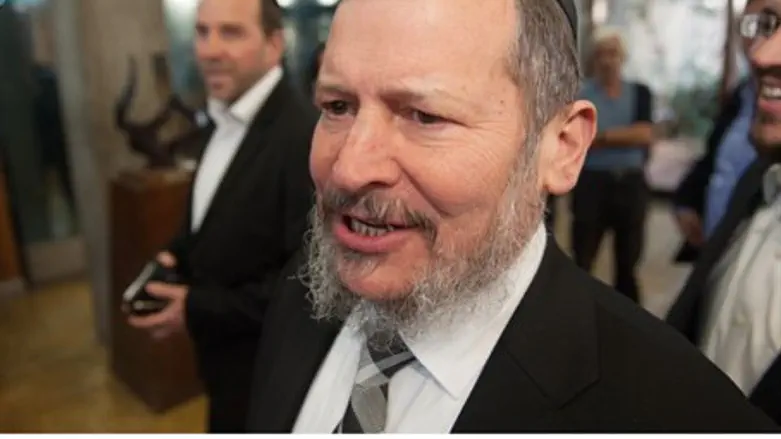 Uri Lupoliansky
Flash 90
The State Attorney's Office (SAO), often referred to as the State Prosecution, is happy with the severe sentence meted out to former Jerusalem mayor Uri Lupoliansky – six years in jail and one year's suspended sentence – in the Holyland corruption case. Contrary to expectations raised by Judge David Rosen himself in previous statements, the sentence was similar to the one handed down to Ehud Olmert,
"The sentence reflects the Prosecution's position, according to which a prolonged jail sentence that reflects the severity of the deeds, the extent of the bribe money and senior positions that the defendant held over the years," the SAO said, according to Maariv-NRG.
"This is the largest sum of money received by any of the defendants in this grave affair – twice the amount of bribes received by [former city engineer] Uri Sheetrit and five times the bribe money tranferred to Ehud Olmert."
"And yet," the SAO noted, "the court took account, in its verdict, of the fact that most of this money was tranferred to a public institution. In this context, we note that the court stressed that the bribe served to improve the defendant's reputation and public status."
Yad Sarah, the medical charity founded by Lupoliansky, which received the bulk of the bribe money that was offered to Lupoliansky, said it was "shocked by the sentence, which contradicts everything that the judge said in the course of the trial, and is certain that Founder Uri Lupliansky is innocent."
"As a person and a leader, he will continue to lead the thousands of volunteers as a fount of humanity and encouragement for all people."
In a recent court session, Judge Rosen indicated that he intends to be lenient with Lupoliansky in view of his failing health as well as the fact that he did not take bribe money into his own pocket. In Lupoliansky's case, the bribe money went to the Yad Sarah charity.
"Are we only in charge of the law? Do we not possess humanity?", the judge said in response to the prosecution's requests for punishment. "It is time to show generosity and mercy toward people who did not take money into their own pockets."
The prosecution asked for a six year sentence against Lupoliansky, who was convicted of taking 2.5 million shekels in bribes. Despite his promises of leniency, the judge accepted the prosecution's request in full.