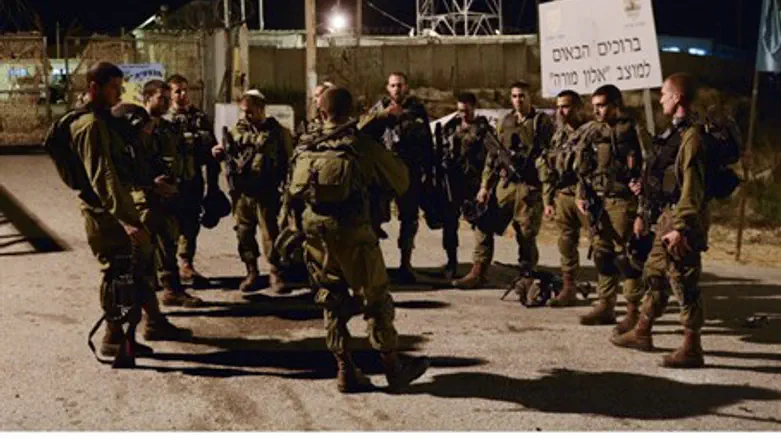 IDF patrol (file)
Flash90
A short time ago, terrorists attempted to attack an IDF post near Bethlehem Wednesday night.
According to reports, Palestinian Arabs in a passing vehicle attempted to run over IDF soldiers stationed near the Palestinian Arab city.
The IDF fired at the vehicle; no injuries or damage to the IDF were reported.The vehicle's trunk was damaged during the shooting shortly before fleeing the scene. 
IDF forces are currently searching the area.
Tensions in Palestinian Authority (PA) controlled areas have been rising as the IDF continues to search for three yeshiva students, who Prime Minister Binyamin Netanyahu confirmed were kidnapped by Hamas terrorists last Thursday night.
Several attacks have been launched against IDF soldiers in the past several days, including rock-throwing and Molotov cocktail attacks.
On Sunday, assailants shot at Border Police from a passing vehicle near Har Gilo, located just south of Jerusalem and to the north of Bethlehem in Judea.
The attack took place just outside the tunnels leading from Jerusalem to the Gush Etzion area of Judea, an IDF spokesperson stated. No injuries or damage were reported from the attack.