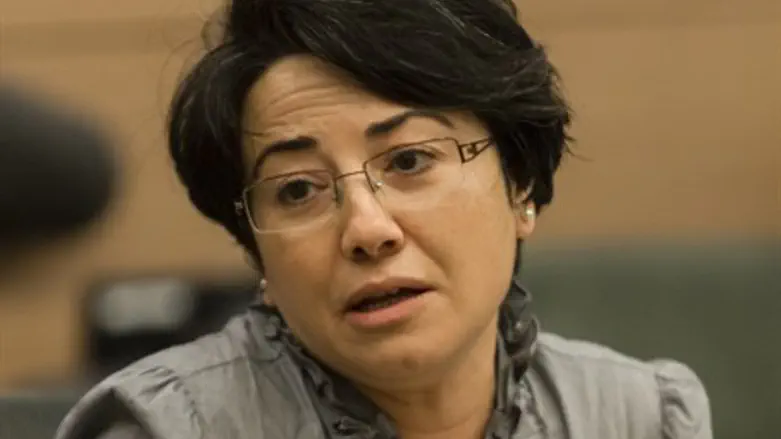 Hanin Zoabi
Flash 90
MK Hanin Zoabi (Balad - United Arab List) defended her remarks supporting Hamas's kidnapping of three Israeli teens Wednesday, stating that her views were already "well-known" and that she will not be thrown from the Knesset.
"I don't think they'll throw me out of the Knesset, I haven't broken any laws," Zoabi stated, in an interview with Channel 2 Wednesday.
She also derided the Israeli government for providing her and her family with a state-funded security detail, claiming that she never should have needed one at all.
"I did not ask for a security detail and I'm ready to give it up willingly," she added, "but I also understand that security was based on information that the police had. I would prefer that the police investigate seriously the threats and catch the perpetrators, but apparently it does not work like that and the police would rather not explore but just give me security." 
Zoabi then used the security detail, which was provided by the Israeli security establishment, to slam the "insensitive" nature of Israeli society. 
"The security detail reveals the nature of society in which we live - insensitive, intolerant and critical," Zoabi fired. "[Israeli] society does not like to look at itself in the mirror."
"What I'm saying is at the heart of democracy," she added. "I won't play the rules of the game and everyone knows my political views."
On Tuesday, Zoabi stated to a shocked interviewer on Radio Tel Aviv that the Hamas terrorists responsible for kidnapping three yeshiva students "are not terrorists" and that the kidnapping is a "last resort" for Palestinian Arabs frustrated by their lives. 
"They are not terrorists, I do not agree with you!" Zoabi fired. "They have seen no other way to change their reality and they have to resort to these measures until Israel sobers up a bit and feels the suffering of others."
Zoabi hung up on interviewer Sharon Gal after the statement, leaving Gal and the audience in shock. The comments have caused a media firestorm as concern escalates over the safety of the three teenagers, who were kidnapped by Hamas terrorists Thursday night while attempted to travel home from school. 
While fellow Balad MKs have rallied behind Zoabi, the MK has also seen a rare condemnation from the political left. 
A series of legal actions have been initiated against Zoabi for the remarks, with several ministers and MKs arguing that the remarks are a breach of laws banning Knesset members from identifying with terrorists or inciting against Israel.
On Wednesday night, the Israel Police announced that they would be investigating all incitement complaints against the MK, in conjunction with the Attorney General's Office, and determine whether she could be brought to trial over the remarks, according to Channel 10.