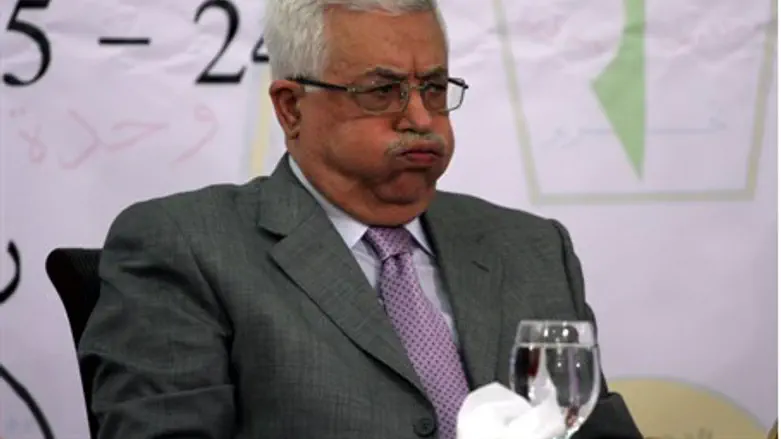 PA Chairman Mahmoud Abbas
Flash 90
Palestinian Authority (PA) Chairman Mahmoud Abbas played the victim on Wednesday, accusing the terrorists who kidnapped three Israeli teens last Thursday of trying to "destroy us," meaning the PA.
"Those who kidnapped the three teenagers want to destroy us. We will hold them accountable," Abbas said at an Organization of Islamic Cooperation (OIC) meeting in the Saudi Arabian city of Jeddah, reports AFP.
The PA has threatened to end its unity deal with Hamas over the kidnapping according to unconfirmed reports, even as it celebrates the kidnapping.
Abbas also defended the cooperation between PA security forces and the IDF in the operation, saying "the kidnapped are human beings like us." 
"It is in our interest to have security coordination with Israel because that would help protect us," Abbas said, claiming "I say it frankly, we will never have another Intifada - that would destroy us."
Hamas and Islamic Jihad in Gaza on Monday condemned Abbas over the cooperation, saying instead he should declare "jihad" against the "Zionists."
That same Monday Abbas condemned the kidnapping, four days after it occurred, but in the same statement condemned the IDF Operation Brother's Keeper aimed at rescuing the youths and cleaning out the Hamas terror infrastructure in Judea and Samaria.
Prime Minister Binyamin Netanyahu telephoned Abbas shortly after the statement was released, in the first telephone conversation between the two in months, saying "I expect you to help in the return of the kidnapped youths and the capture of the kidnappers."
However, the Al-Aqsa Martyrs' Brigade, the terror wing of Abbas' Fatah faction, released a joint statement with Hamas and other terrorist organizations in Gaza on Tuesday, threatening they would use "force" against Israel if the operation continues.