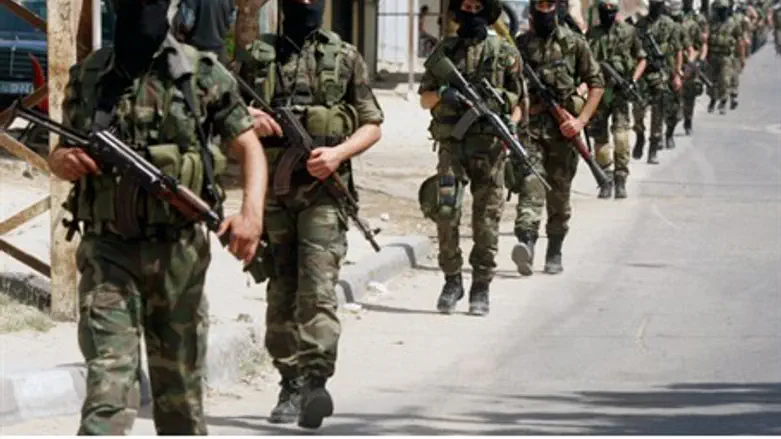 Hamas terrorists
Flash 90
If it indeed turns out that Hamas was behind the kidnappings of Israeli teens Eyal Yifrah (19), Naftali Frenkel (16), and Gilad Sha'ar, Fatah will regard its unity agreement with Hamas as null and void, a top Palestinian Authority official said Monday. Fatah will consider the kidnappings as "a stab in the back" of the deal, and will no longer consider itself obligated to honor the agreement.
According to the official, Hamas had promised not to carry out terror attacks in Judea and Samaria, as part of the agreement. With the kidnappings, Hamas has clearly violated that promise. The official added that after the incident is over, Fatah will act against "Hamas assets."
On Sunday, Prime Minister Binyamin Netanyahu pegged Hamas as being behind the kidnappings of Yifrah, Sha'ar and Frenkel, the three teens who were apparently snatched or otherwise enticed to enter a vehicle as they were hitchhiking in Gush Etzion Thursday night. "This morning I can say what I was unable to say Saturday before the extensive wave of arrests of Hamas members in Judea and Samaria," Netanyahu began, referring to his statement last night in which he confirmed that the boys, who had been missing since Thursday night, had been kidnapped. "Those who perpetrated the abduction of our youths were members of Hamas – the same Hamas that Abu Mazen [Mahmoud Abbas] made a unity government with; this has severe repercussions," vowed the PM.
Hamas on Sunday denied all involvement with the kidnappings. "[Prime Minister Binyamin] Netanyahu's statements accusing Hamas of kidnapping the (teenagers) are stupid," spokesman Sami Abu Zuhri told AFP. "These arrests are aimed at breaking the movement and it won't succeed."