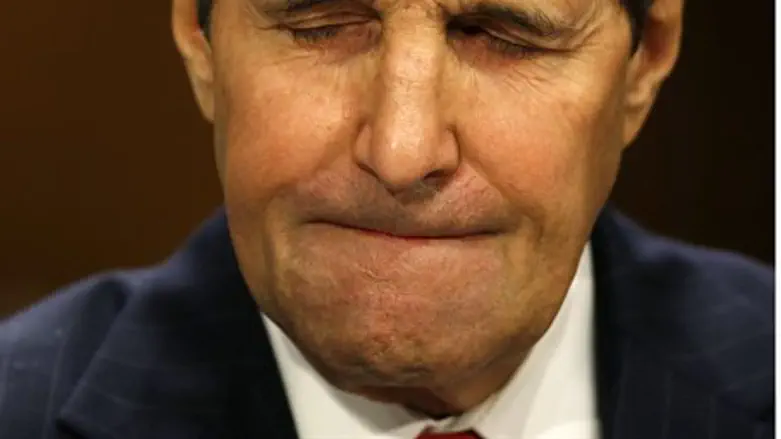 John Kerry
Reuters
The United States and Iran have a common interest in preventing Sunni ISIS militias from taking over Iraq completely – and if an alliance between the two is the only way to do that, said US Secretary of State John Kerry, then so be it.
Speaking to Yahoo News Monday, Kerry said that the US was faced with a challenge to the stability of the region. It is obviously an existential challenge to Iraq itself. This is a terrorist group," Kerry said of the ISIS rebel group now threatening to overrun Baghdad. Asked about possible cooperation with Shi'ite Iran, an arch-enemy of the ISIS group which has threatened to destory Shi'ite shrines in Iraq, Kerry said that the US needed to be cautious before throwing its lot in with Tehran.
With that, he said, "I think we are open to any constructive process here that could minimize the violence, hold Iraq together — the integrity of the country — and eliminate the presence of outside terrorist forces that are ripping it apart.
"I wouldn't rule out anything that would be constructive to providing real stability, a respect for the (Iraqi) constitution, a respect for the election process, and a respect for the ability of the Iraqi people to form a government that represents all of the interests of Iraq — not one sectarian group over another," Kerry added.
The United States began evacuating some workers out of the Iraqi capital, the State Department said on Monday. In a statement Sunday, the State Department said that "some additional U.S. government security personnel will be added to the staff in Baghdad; other staff will be temporarily relocated – both to our Consulate Generals in Basra and Arbil and to the Iraq Support Unit in Amman."
The move comes in the wake of the takeover of several Iraqi cities by the Islamist group the Islamic State in Iraq and the Levant (ISIS). The group, which widened its grip in the north and east over the weekend, has threatened to march south, towards Baghdad.