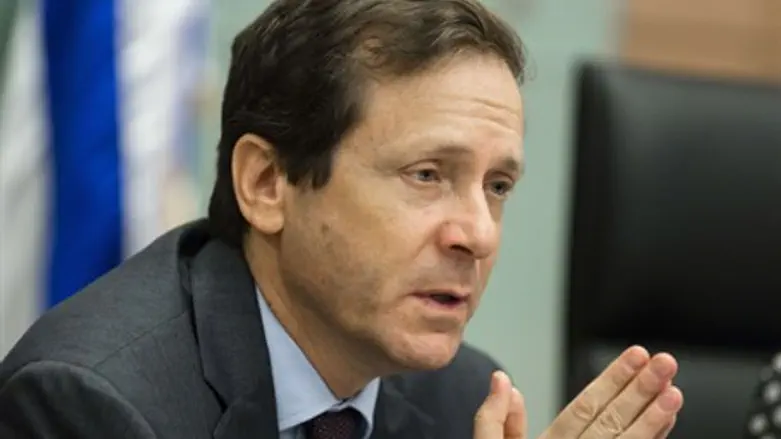 Yitzhak Herzog
Flash 90
Opposition and Labor Party Chairman Yitzhak Herzog met on Monday with the family of Naftali Frenkel, the 16-year-old who was kidnapped along with two other young students last Thursday night by terrorists.
After leaving the Frenkel family's home in Nof Ayalon, just south of Modi'in, Herzog called the family "the salt of the earth, who serves and contributes to the society and the state. I was impressed by their strength and faith, and told them that all the people of Israel are putting their arguments aside to pray with them for the return of the boys."
Apparently Herzog didn't manage to completely put the arguments aside.
Speaking after the meeting, he criticized Prime Minister Binyamin Netanyahu's statements holding Palestinian Authority (PA) Chairman Mahmoud Abbas responsible for the kidnapping, given that it originated from PA-controlled territories and given the recent Fatah-Hamas unity deal; Netanyahu accused Hamas of conducting the abduction.
"This is a process (carried out by) criminal and despicable terrorists. It's not right to put the blame on Mahmoud Abbas, instead we have to work with him," Herzog told Yedioth Aharonoth.
Despite Herzog's defense of Abbas, the official PA daily on Sunday printed a cartoon sickeningly distorting the World Cup 2014 logo so as to celebrate the kidnapping. The cartoon shows three hands holding three people with their hands up in surrender, over the word "Khalil," Arabic for Hevron where the boys are believed to be held.
The same day, Abbas's Fatah faction celebrated the kidnapping as a victory on its official Facebook page, showing a picture of a victory sign with three fingers held up instead of two, symbolizing the three kidnapped youths. Accompanying the picture was a smiley with the text, "For your interpretation :)".
Earlier, Fatah also posted a sickening cartoon on its Facebook showing three rats with Jewish stars on them dangling from a fishing rod. Another official Fatah post encouraged Palestinian Arabs to cover up all evidence of the missing teens to hinder the IDF search. 
Herzog said after the meeting that he was on his way to the Yifrah family, whose 19-year-old son Eyal was among the kidnapped, and that he would meet with the family of 16-year-old Gilad Sha'ar later in the day.