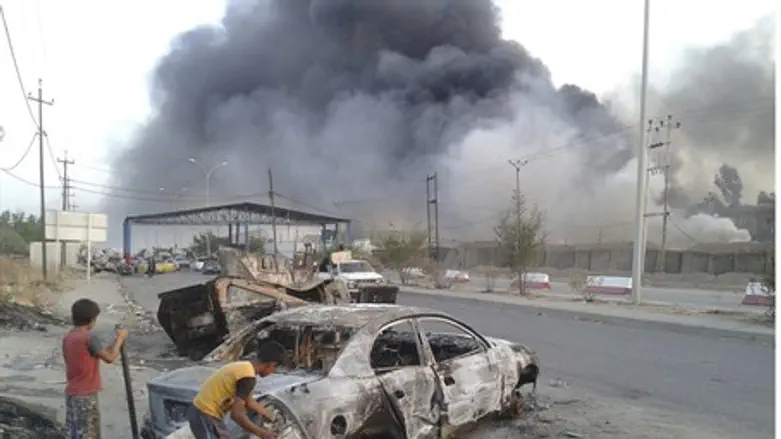 Children in ISIS-captured Mosul
Reuters
The Iraqi government under Prime Minister Nouri al-Maliki is taking more desperate measures, after a radical Al Qaeda offshoot seized control of the country's second largest city on Monday night.
Maliki made a televised statement on Tuesday, offering weapons and equipment to citizens willing to fight Islamic State of Iraq and the Levant (ISIS) Islamists, who captured Mosul in northern Nineveh Province, taking over several jails and freeing thousands of inmates, as well as the city's airport - together with several military aircraft.
In the statement, Maliki noted his cabinet has "created a special crisis cell to follow up on the process of volunteering and equipping and arming," reports Al Arabiya. He added that the cabinet "praises the willingness of the citizens and the sons of the tribes to volunteer and carry weapons...to defend the homeland and defeat terrorism."
In addition to arming civilians, the cabinet decided to "restructure and reorganize" the security forces, and request that the Iraqi parliament "announce a state of emergency."
Not all citizens were volunteering to put their lives on the line facing off against the brutal ISIS group that routed the country's US-trained armed forces. Some 150,000 panic-stricken refugees fled to the nearby autonomous Kurdish region in northern Iraq.  
ISIS was formerly part of Al Qaeda before breaking off, after it was deemed too brutal. Perhaps most notoriously, the group has taken to publicly crucifying execution victims.
Video from Mosul on Tuesday was uploaded to YouTube, revealing scenes of abject destruction.
In one video filmed by car, destroyed vehicles can be seen still smoldering away in flames, as convoys of ISIS terrorists drive in trucks roaming the city:
Another video shot from a rooftop in the city shows towers of smoke still billowing over the city following the intense battles:
Despite Maliki's call for help, ISIS terrorists seized several areas in Kirkuk province between Mosul and Baghdad several hours later on Tuesday, Iraqi police Colonel Ahmed Taha told AFP.
Taha reports that ISIS captured the Hawijah, Zab, Riyadh and Abbasi areas west of Kirkuk city, along with Rashad and Yankaja to the city's south.
"Maliki's failure"
Local governors are pointing the finger squarely at Maliki for the losses.
Nouzad Hadi, Governor of Arbil, a city located between Mosul and Kirkuk, said Iraqi military forces "are well-armed with the latest weaponry from the United States," but "that Maliki's security policy has led to this failure."
The governor of Mosul, Atheel Nujaifi, managed to escape ISIS as police held off an attack by heavily armed terrorists on the provincial government's headquarters, reports Reuters.
Speaking in a televised statement on Monday, Nujaifi said "I call on the men of Mosul to stand firm in their areas and defend them against the outsiders, and to form popular committees through the provincial council."
The American administration announced its concerns over the turn of events, but has yet to reveal a plan of action.
"It should be clear that ISIL is not only a threat to the stability of Iraq, but a threat to the entire region," said State Department spokesperson Jen Psaki, using another name for the group, Islamic State of Iraq and Levant (ISIL).
UN Secretary General Ban Ki-Moon added his concern. According to his spokesperson Stephane Dujarric, Ban was "gravely concerned by the serious deteriorating of the security situation in Mosul, where thousands of civilians have been displaced."