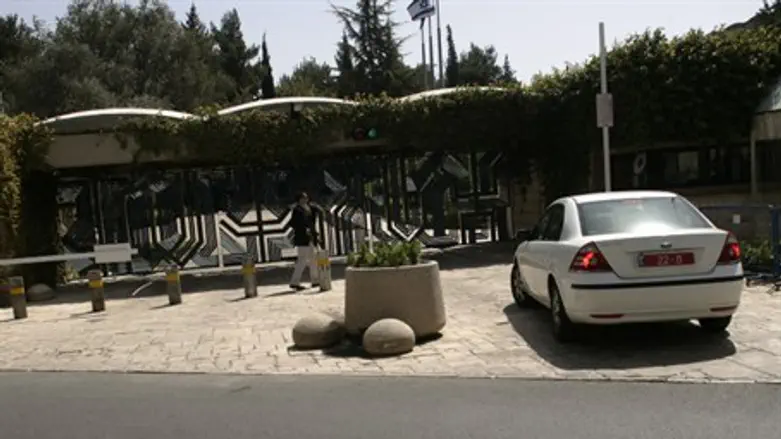 Presidential residence
Flash 90
The Knesset will convene a special session at 11 a.m. Tuesday, in which the 120 MKs will select Israel's tenth president.
The race is being widely described as the ugliest presidential race in memory. Knesset Speaker MK Yuli Edelstein (Likud-Beytenu) said Sunday that "The bad atmosphere that continues to envelop this race causes dissatisfaction from the process and casts a dark shadow on the contenders and the Knesset."
"Regrettably," he added, "it is undeniable that in the present climate, the elections for president will be lacking in any ceremonial or respectable dimension – as they should be."
Two leading candidates for the presidency had to withdraw from the race at the last moment because of police inquiries, which followed accusations of criminal acts that were published in the media. 
The first to withdraw was Minister Silvan Shalom (Likud-Beytenu), who was about to formally announce his candidacy, when news sources began to report that a woman who once worked for him claims he slept with her in a hotel room. Police summoned Shalom and questioned him, even though no formal complaint was filed and the alleged incident happened too long ago to be prosecuted, because of the statute of limitations.
The police found no justification for continuing the process against Shalom, but Shalom apparently had no choice but to withdraw from the race.
The second candidate whose candidacy was similarly torpedoed was MK Binyamin Ben-Eliezer (Labor). Police summoned him for questioning on Friday after accusations of corruption surfaced in a newspaper article. He announced his withdrawal from the race on Saturday.
It is widely believed that the leaks against Ben-Eliezer and Shalom were made by a rival candidate or candidates, or by their supporters.
The candidates remaining in the field are former MK Dalia Itzik, retired Supreme Court judge Dalia Dorner, Prof. Dan Shechtman, MK Meir Sheetrit and MK Reuven Rivlin – the favorite to win.
Rivlin is expected to lead his competitors by a wide margin in the first round of voting. His supporters include most Likud members, almost all of the Jewish Home members, a few MKs from Yisrael Beytenu, Yesh Atid and Labor, and a sizable chunk of the Arab parties.
The rest of the MKs are expected to divide their votes among the other candidates, who are seen as hailing from the center-left camp. MK Sheetrit will receive support from members of his own faction, the 6-seat Hatnua, and from Yesh Atid. Itzik will probably be popular among Yisrael Beytenu MKs. Meretz chairwoman Zehava Galon endorsed Dorner Sunday, and other female MKs did the same. Prof. Shechtman is not known to have meaningful support.
How Hareidi MKs intend to vote remains a mystery. MK Yaakov Litzman (UTJ) committed to vote for Rivlin, at per his rabbi's instructions, and MK Meir Porush will not vote because he is abroad. MK Yaakov Mergi (Shas) is seen as a supporter of Dalia Itzik, and he estimated that other members of the faction will also vote for her, but other MKs from Shas dispute this.