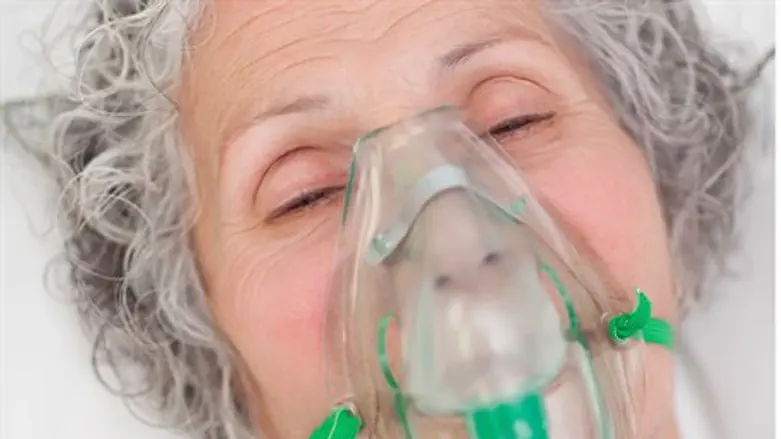 Euthanasia (illustration)
Thinkstock
Chief Ashkenazic Rabbi David Lau on Sunday expressed his sharp opposition to a law that Yesh Atid MK Ofer Shelah is set to propose that would legalize "mercy killings." "Doctors have a right to treat people and make them healthy," said Rabbi Lau. "They do not have a right to kill people."
The law was discussed Sunday by the Ministerial Committee for Legislation, all of whose members – except for Jewish Home ministers – voted to approve it for Knesset legislation. Shelah plans to introduce the law for its first Knesset reading in the coming days.
If approved, the law would allow doctors to determine and recommend "end of life" procedures for the terminally ill. The law would apply when terminally ill patients state their desire to end their lives twice, two weeks apart, in the presence of two witnesses. At that point, the patients would sign a waiver, if they are physically able to do so, and doctors would arrange for an end of life procedure.
Hareidi MKs also sharply criticized the measure. MK Eliezer Menachem Mozes, UTJ faction head, said that the law "once again proves that this government has one purpose, and that is the destruction of all Jewish values. The government has lost its respect for the sanctity of life, a hallmark of Jews for all of the nation's existence. It is chilling to think that just 70 years after the Germans, for the first time established the concept of 'mercy killing' of the lame, sick, and old, that we would adopt the same approach."
MK Yaakov Asher (Shas) said that "the government has crossed a red line today, and is expanding its war from the sanctity of Judaism to the sanctity of life itself. It's time to perform a 'mercy killing' on this government," he added.
According to Rabbi Dr. Mordechai Halpern, director of the Schlezinger Institute, the proposal's adoption would mean that the state sanctioned suicide – or murder. "If we start deciding on our own whether or not a life is worth saving, we open up a discussion on which lives are 'worthy' of being saved and which aren't."
There will be no way to halt the fall of society down the "slippery slope" this proposal will engender, he said. "The law will allow society to end the lives of those who don't 'fit in.' Doctors will become a law unto themselves. Murder will become a normal, accepted act," he added.