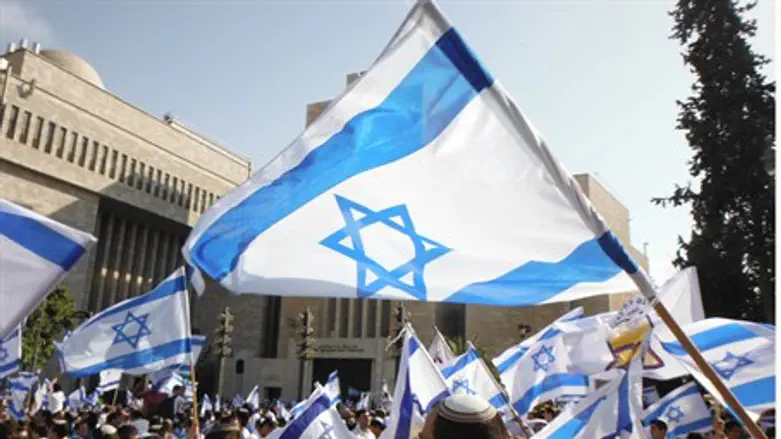 Flag Dance in Jerusalem
Ben Bresky
Professor Amiram Goldblum, a senior lecturer at Hebrew University and co-founder of the extreme leftist organization Peace Now, has made use of his Facebook page to tear into the nationalist camp, the Jewish Home faction and religious Zionism.
"Let someone dare say that this is not Judeo-Nazi youth," wrote Goldblum next to a video of the "rikudgalim" flag dance celebration on Jerusalem Day. "The Arabs are under curfew in the streets of the Old City. The apartheid that exists beyond the Green Line is in Jerusalem now. Jewish youths are raised on the monstrous style that we have seen in other places."
Goldblum did not forget to note that "this is not something they invented. This is in the air that is manufactured by the Israeli right wing, and especially by that sect of impurity, religious Zionism and its rabbis."
Prior to Jerusalem Day, Goldblum said that the right wing camp makes the historic day "look and sound like the neo-Nazi march through Skokie... let the call resound: fascists of the world, unite – the Golden Dawn from Greece, the religious right in Israel, brothers in fascism."
Professor Goldblum also had some harsh words to say about the elections for the presidency. MK Reuven Rivlin, he charged, is "a radical right winger who supports the settlers of Hevron and a man of apartheid." The senior lecturer noted that Rivlin participated in the inauguration of the Culture Center in Kiryat Arba, which he dubbed "the Hall of Jewish Terror."
The Jewish Home also received some attention from Professor Goldblum. In response to the decision to construct hundreds of housing units in Judea, Samaria and Jerusalem, Goldblum said that "the Jewish Home is the State of Israel's Inquisition."
"Settlement as punishment," he mused. "At long last, the Settlers' Home (The Home of Jewish Apartheid and Fascism, deceptively called The Jewish Home) admits that the settlements are punishment... it turns out that the need for additional structures because of natural growth or security was a lie (after all, settlement was always a net security liability)," Goldblum's Facebook page added.