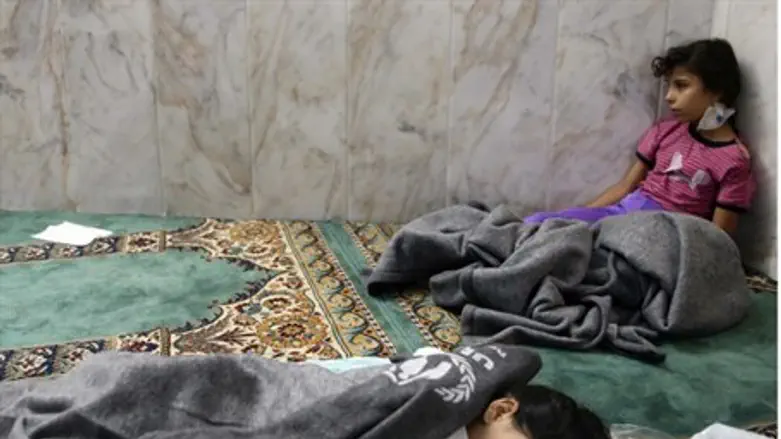 Girls who survived alleged gas attack
Reuters
France cast evidence that the Syrian government had used chlorine gas on its own people into doubt on Thursday, stating that lab analysis of samples from the attack were "inconclusive" and needed further study.
The Organization for the Prohibition of Chemical Weapons (OPCW), which has supervised the demolition and dismantlement project for Syria's chemical weapons stockpile since the project was launched in 2012, has handed samples from places alleged to be hit by chlorine gas to neutral parties for analysis. 
But on Thursday, French foreign ministry spokesman Romain Nadal revealed that the investigation was not going as planned. 
"Given that ... chlorine which is widely used for civilian purposes is very volatile, the results of the analysis may not necessarily prove to be conclusive, (and) will need to be complemented with other information," Nadal said. 
A source close to the investigation told Reuters that the pieces of evidence being examined include witness accounts, samples of materials present at the Damascus attack, and communication between Syrian officials. The UK and US have also worked with Paris on the investigation, the source said. 
Activists said in April that over 100 people were killed in a chlorine gas attack in the town of Talmenes in Idlib province, and the United Nations Security Council has called for an investigation into the alleged attack.  Israeli officials also claimed that another chemical attack had been launched in Syria - this time, in Damascus's eastern Harasta neighborhood.  
But investigations into multiple attacks alleged to have been tinted with chlorine gas has so far proved conclusive, even as officials blame Syrian President Bashar Assad for the attacks. 
In May, US Secretary of State John Kerry threatened Syria with "consequences" if the accusations were proven true, claiming he had "raw data" that the attacks had occurred. 
Thursday's announcement also overturns previous statements from Paris itself, with French Foreign Minister Laurent Fabius saying in May that the Syrian regime is believed to have used chemical weapons, including chlorine, in 14 attacks since late 2013.
Syria, meanwhile, has emphatically denied that it had carried out chlorine gas attacks against civilians.
"I assure you 100% that chlorine gas has never been used by the government," Syria's Deputy Foreign Minister Faisal al Mekdad told CNN.