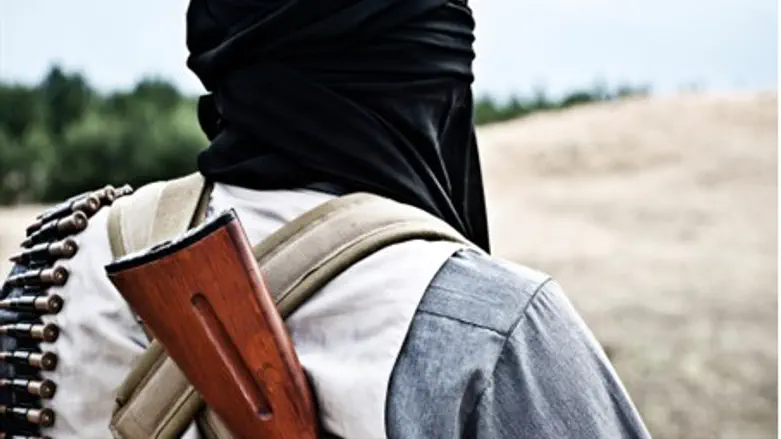 Syrian jihadist (illustration)
Thinkstock
Leaders of the Group of Seven industrialized nations (G7) decided Thursday to tighten defenses against the risk of terror attacks by European jihadists returning from the Syrian front.
"We have agreed to intensify efforts to address the issue of foreign fighters travelling to and from Syria," British Prime Minister David Cameron said at the close of a G7 summit.
Cameron said talks were taking place with Syria's neighbors to strengthen their borders, in the wake of an attack on the Jewish Museum in Brussels late last month believed to be the work of a young French jihadist terrorist recently returned from Syria.
French President Francois Hollande said more than 30 French jihadists had already died on the Syrian battlefront. Almost 800 French citizens are believed to have signed up to fight President Bashar Assad's regime.
Hollande too said it was essential "to cooperate to prevent, dissuade and punish" foreign fighters "who can undermine our security."
"We have unfortunately just had proof of that," Hollande added in reference to the Brussels attack, the first such incident in the city in three decades.
It is suspected to be the work of a 29-year-old Frenchman, Mehdi Nemmouche, who spent more than a year fighting with radical jihadists in Syria.
The May 24 attack in the heart of Brussels, which killed four including two Israelis, was also raised in talks between US President Barack Obama and Belgian premier Elio Di Rupo.
"We resolve to intensify our efforts to address the threat arising from foreign fighters travelling to Syria," a statement from the seven G7 leaders said.
More Brussels shootings expected
Europe can expect further "small-scale attacks" like the Brussels shooting, the EU's anti-terror chief Gilles de Kerchove said this week.
"I don't expect another 9/11," he said. "I don't expect a major sophisticated attack." But with more than 2,000 Europeans in Syria or on their way there, receiving military training and becoming more radicalized, the Brussels attack was "very, very worrying" for Europe's future security, he said.
Around 400 British nationals, 320 Germans and 200 Belgians are believed to have left for Syria.
On Thursday, home affairs ministers from nine European nations - Austria, Belgium, Britain, Denmark, France, Germany, Italy, Spain, Sweden - agreed to step up efforts to identify potential volunteers, slow their departure, track them on return, and share information with each other.
Brussels suspect was checked in Germany
Though long rejected by the European Parliament, one idea is to agree a European Passenger Name Record (PNR) system, enabling countries to swap data on all airline passengers that notably could help trace would-be terrorists.
The suspect being held in France returned to Europe via Thailand and Malaysia, landing in Germany. German Home Affairs Minister Thomas de Maiziere said the gunman was checked secretly when he landed in Frankfurt.
"Germany then gave a hint to France, but the attack happened nevertheless," said de Maiziere.
"We thought about consequences from that," he said at talks with counterparts in Luxembourg. "Are these secret hints right? Is it maybe better to stop these people? How can we manage the exchange of information better? Do we need a European PNR system?"
"The abstract threat by foreign fighters became a concrete danger and we have to draw consequences from that," concluded the German minister.