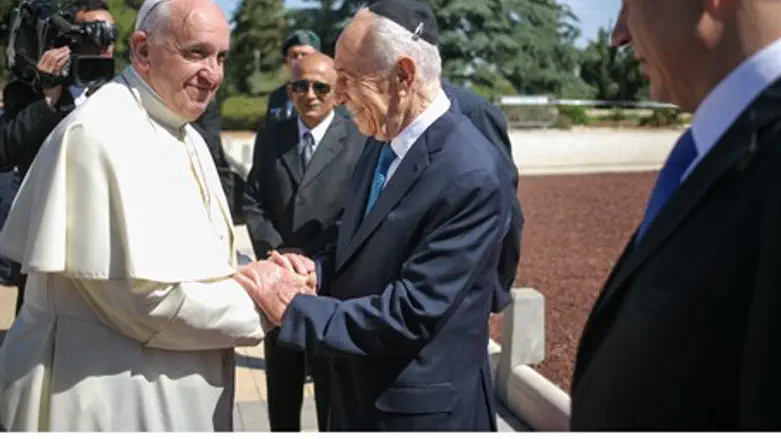 Peres greets Pope Francis as Netanyahu looks
Flash 90
Pope Francis hosts an unprecedented joint peace prayer in the Vatican on Sunday with Israeli president Shimon Peres and Palestinian Authority (PA) Chairman Mahmoud Abbas, in a bid to overcome decades of mistrust, AFP reports Thursday. 
Francis invited the two leaders unexpectedly during his trip to the Middle East last month but has claimed repeatedly that the initiative is "purely spiritual" and is not part of an attempt by the Vatican to mediate in the conflict.
"This prayer meeting will not be for mediation or to find solutions. We are just meeting up to pray. Then everyone goes home," the Argentine pontiff told journalists during an impromptu press conference on the flight back to Rome.
"Praying together without any talks could help," he said, after US-led peace talks between Israeli and Palestinian negotiators collapsed in bitter recriminations in April.
"Concrete peace measures have to come from negotiation. To be honest, I do not feel competent to say: we need to do this or that. It would be crazy on my part!" he added.
The precise format for this prayer and even where it will take place are being kept under wraps but it is likely it will be held behind closed doors and possibly in the pope's residence or outdoors in the Vatican gardens.
Abbas and Peres are expected to be accompanied by imams and rabbis and the Ecumenical Patriarch of Constantinople Bartholomew I, a top Orthodox leader, could also join in.
"They will pray together but each in respect of their faith," the Vatican affairs website Il Sismografo reported.
The meeting follows a controversial visit from the Vatican, which included a questionable set of political decisions which give legitimacy to the PA, as well as outrage over a rumored deal to transfer King David's Tomb to the Vatican - either in part or in whole. 
During the visit, Pope Francis addressed what he called "the State of Palestine," according to Ma'an, calling Abbas "a man of peace." In his speech, he called for a two-state solution and an end to the Israeli-Palestinian Arab conflict, which he deemed "unacceptable." 
The pope also paused for several moments in front of a graffiti on the security wall in Bethlehem, bowing his head in prayer in front of a message proclaiming, "Pope we need to see someone to speak about justice. Bethlehem look like Warsaw ghetto. Free Palestine."