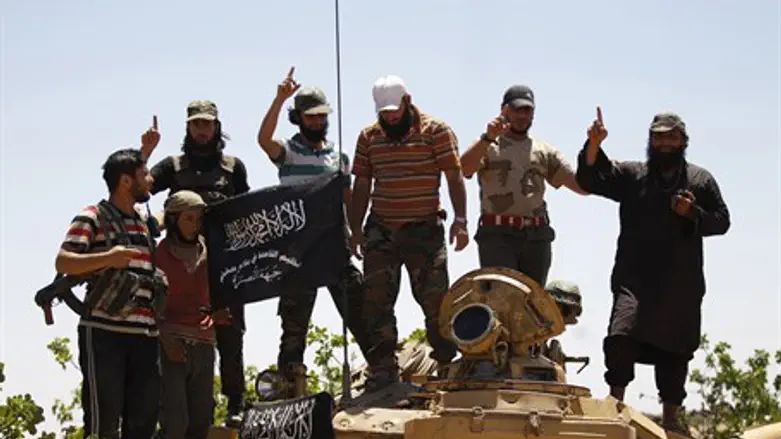 Syrian rebels from the Al Qaeda-linked Nusra
Reuters
Leaders of the Group of Seven powers are hoping to draw up plans Wednesday on how to guard against the threat of attacks by European jihadists returning home from fighting in the Syrian civil war, diplomats said.
In the wake of a fatal shooting at the Jewish Museum in Brussels just days ago, British and French diplomatic sources said the matter would be raised when G7 leaders kick off a two-day summit with talks over dinner.
"They will discuss counter-terrorism, the issue of foreign fighters and the threat they pose to our national security," said a British source.
The issue would be mentioned in the leaders' joint communique that will be issued after the summit, another diplomatic source told AFP.
The gunman suspected of the May 24 attack in Brussels, who killed three people outright and left a fourth clinically dead, spent more than a year fighting in Syria for the Islamic State of Iraq and the Levant, or ISIS, a breakaway faction of Al Qaeda.
The incident "is opening eyes" to the threat posed by the potential return of hundreds of well-trained and highly politicized volunteer fighters, said a senior EU diplomat.
Europe can expect further "small-scale attacks" like the Brussels shooting, the EU's anti-terror chief Gilles de Kerchove said this week.  
"I don't expect another 9/11," he said. "I don't expect a major sophisticated attack."  
But with more than 2,000 Europeans in Syria or on their way there, receiving military training and becoming more radicalized, the Brussels attack was "very, very worrying" for Europe's future security, he said.
On Thursday, home affairs ministers from seven European nations are to meet in Luxembourg to discuss ways to step up action in face of the threat.
Though long rejected by the European Parliament, one idea will be to agree a European Passenger Name Record (PNR) system, enabling countries to swap data on all airline passengers that notably would help trace would-be terrorists.
The 29-year-old Frenchman, Mehdi Nemmouche, being held in custody on suspicion of the Jewish Museum attack, returned to Europe via Thailand and Malaysia, landing in Germany.
On Saturday, his lawyer announced that he would be fighting extradition to Belgium.
Talks about introducing a PNR system were "always on the table but it of course has been brought into sharp relief given the arrest and the events in Brussels," said a diplomat.
"We have seen a tragic example of how having a PNR would have helped."