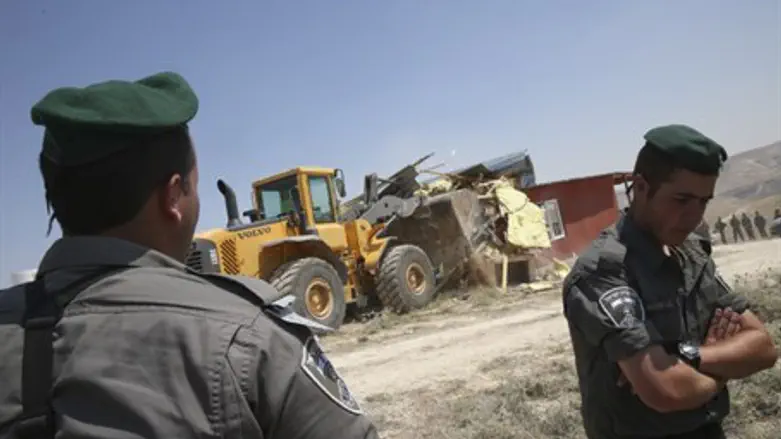 'Following orders' in Ma'ale Rehavam
Flash 90
According to many residents of Judea and Samaria, it is Defense Minister Moshe Yaalon who is behind a series of recent events that demonstrate a government policy aimed directly against their interests. "In essence, Yaalon's policies are no different than the ones of his Defense Ministry predecessor Ehud Barak," said Musa Cohen, head of the Kommemiyut organization, which advocates for rights for residents of Judea and Samaria. "The main difference is that Yaalon was selected for this position because he was supposed to have different views than Barak."
The bottom line, said Cohen, was that "Yaalon is acting against the interest of Jewish settlement in Judea and Samaria."
Last week, Kommemiyut released several videos that show Yaalon imposing obscure rules and laws – on violations by Jews, but letting Arabs guilty of the same violations get off scot-free. According to Cohen, the videos, which show Civil Administration bulldozers taking down structures in new communities in Judea and Samaria (called in the media "outposts") are just "the tip of the iceberg" of Yaalon's discriminatory policies.
On Wednesday, Civil Administration forces tore down two homes in the Talmonim area, north of Modiin. Last week, police tore down a large number of homes in Maale Rehavam, a new community in Gush Etzion. Orders to demolish buildings are pending in a number of other places, including Amona, Givat Assaf, Havat Gilad, and others.
To excuses given by apologists for Yaalon that these decisions are being made by lower-level officials, Yair Kartman, a Kommemiyut member, said that "it doesn't make sense that the Defense Minister is jut another bureaucrat among many. He was chosen to carry out a Zionist policy, not to submit to government officials or bureaucrats who hold different points of view."
Residents of new communities complain of daily harassment, and the refusal of officials to sign onto documents for building permits and the like. Kommemiyut said that it would continue to publicize the matter.