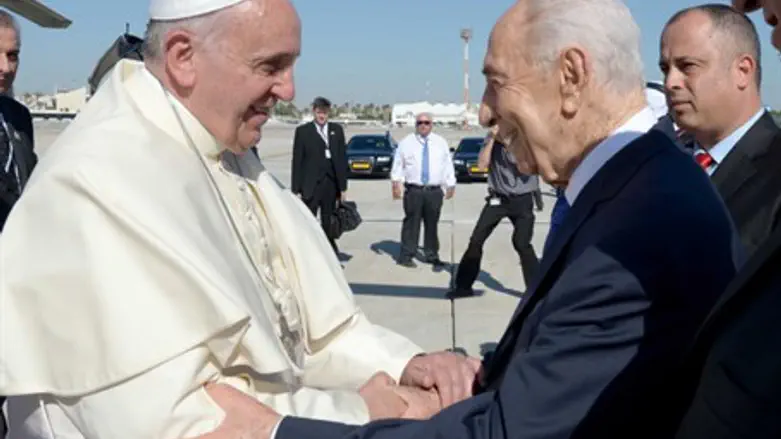 Pope Francis, Shimon Peres
Flash 90
President Shimon Peres addressed Pope Francis as he visited the President's Residence in Jerusalem on Monday, shortly after a visit to the Har Herzl national cemetery.
"You have come to Jerusalem which radiates faith and understands suffering," Peres began. "The humility in your nature and the power in your spirit raised a spiritual elation and a thirst for peace. The values which you stand for enrich us and bring righteousness between people."
Peres went on to praise Israeli society, "a society in which freedom of speech, the right to express oneself and the respect of holy sites are cornerstone values."
The remark comes after 15 Jewish youths were arrested last week on suspicion of intending to protest against the pope. Two of them were arrested for posting notices against the pope, reading "impure, leave our Holy Land," although a judge ruled in their favor, allowing them to protest and express their right to freedom of speech.
Further, another 41 were arrested between Saturday night and Sunday morning protesting the reports that Israel plans to let Catholics hold fixed prayers in the David's Tomb Compound. The move would prevent Jews from entering the holy site, given that Jewish law forbids using a building used for idol-worship, a category Catholic worship with its effigies falls under in Jewish law.
Pope's call will create "Palestine"
The president also condemned terrorism, remarking "those who plant the seeds of evil today are the terror organizations. They have no pity and spread destruction. They kill without judgment, without distinction, without pity without logic. We must stand together to prevent the menace on the lives of people and on world peace."
Peres also welcomed the pope's call to renew the peace talks, saying " I believe that your visit and call for peace will echo through the region and contribute to revitalizing the efforts to complete the peace process between us and the Palestinians, based on two states living in peace. A Jewish state – Israel. And an Arab state- Palestine."
The pope on Sunday raised tensions by calling the Palestinian Authority (PA) the "state of Palestine."
"I believe that the citizens of the region want peace. They pray for peace. They are ready for peace with their neighbors and with all the nations of our region," said Peres of the Middle East, where Syria has been plagued by a bloody civil war entering its fourth year.