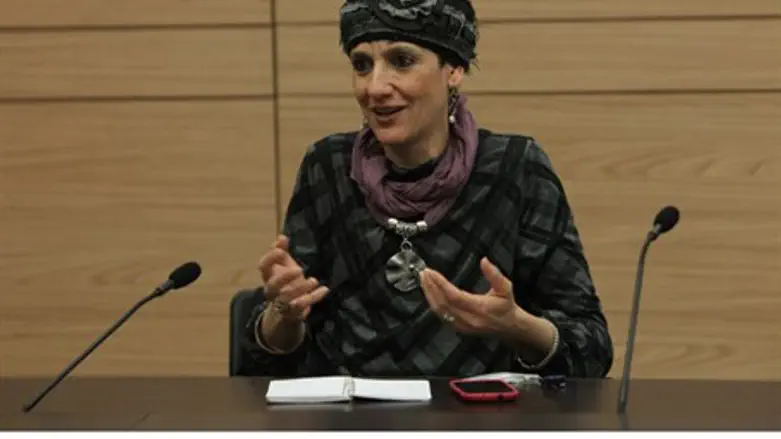 MK Shuli Muallem-Refaeli (illustrative)
Flash90
In response to the murder of three people – two of them Israelis – at the Brussels Jewish Museum Saturday, Israel should suspend diplomatic relations with Belgium, MK Shuli Moallem (Jewish Home) said Sunday.
"The government cannot allow itself to remain indifferent to the murderous terror attack this weekend, another example of the effects of incitement against Israel and attempts to delegitimize it," she said.
Three people were killed on-site and another fatally wounded when a gunman attacked the Jewish Museum in the center of Brussels on Saturday, authorities said. Later Saturday, authorities announced that a suspect has been arrested. The injured victim was announced dead late Saturday, just before 11 pm Israel time.
The attack comes on the eve of elections in Belgium for a new federal government as well as for its regional parliaments and the European Parliament. In his first response upon hearing of the attack Saturday night, Prime Minister Binyamin Netanyahu said that the attack was the result of incitement against Israel.
"Slander and lies against the State of Israel continue to be heard on European soil even as the crimes against humanity and acts of murder being perpetrated in our region are systematically ignored. Our response to this hypocrisy is to constantly state the truth, continue a relentless fight against terrorism and build up our strength," Netanyahu said.
Netanyahu's point was reiterated by Foreign Minister Avigdor Lieberman.
The attack was connected to "calls for a boycott of Israel and boycotts of Israeli products, activities against Israel in international forums and in an automatic one-sided position against Israel. Throughout history, anti-Semitism has undergone many permutations but the bias always remains the same: hatred of Jews simply because they are Jews, wherever they are, no matter if they live in Jerusalem, Tel Aviv, Ariel, Hevron, Brussels or on Mars," Lieberman said.
If that is the case, said Moallem, Israel had no need of relations with a country which fails to halt incitement against it.
Moallem asked for a special Knesset session to discuss the attack.
"Such a session must issue a proclamation that as far as we are concerned there is no difference if an attack takes place in Kiryat Arba, Tel Aviv, or Brussels," Moallem said. "We as a state are required to ensure the safety of Jewish institutions around the world and to protect the lives of innocent Jews. We must demand this of other countries that have diplomatic relations with us.
"If in the year 2014 there is a 'friendly country' that cannot protect its Jewish community, we need to suspend relations with it until the situation is resolved," Moallem said.
Her words echoed those of European Jewish leaders, who accused Europe's governments of complacency vis-a-vis growing anti-Semitism in their own countries.