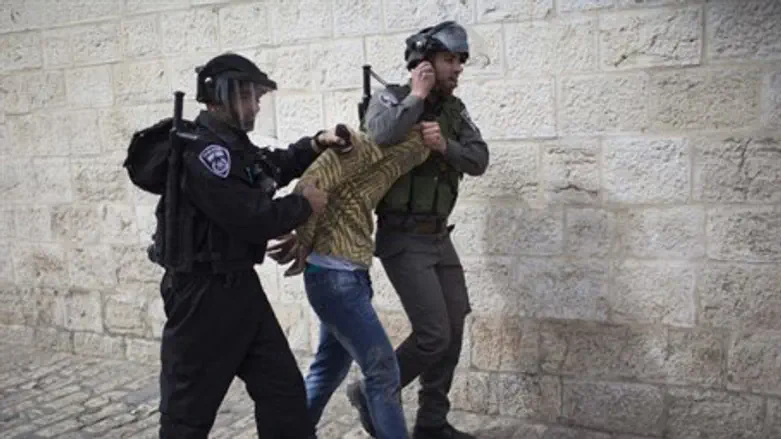 Arrests (illustration)
Flash 90
Police on Friday announced ten more nationalist activists would have restraining orders issued against them, bringing the total to 15 ahead of Pope Francis's visit next Sunday and Monday.
"Yesterday the head of the Jerusalem district mentioned that there would be a further 10," police spokesman Micky Rosenfeld told AFP without giving details.
The detentions began Wednesday, when several Jewish youths were put under house arrest in a move justified by concerns they might do "provocative acts" during the pope's visit. On Friday morning two more "extremists" were arrested for posting notices protesting the pope.
Ahead of court discussions regarding extending the detention of the two notice posters, their lawyer, Attorney Itamar Ben-Gvir, said "this is a notice within the frame of freedom of expression. The police must not silence those wanting to criticize the pope."
For their part, the police gave no signs of openness to freedom of expression arguments in the arrest cases.
Jerusalem police chief Yossi Pariente was quoted Friday saying "we have taken some pre-emptive steps to distance people who according to intelligence received were intending to disrupt the visit. We have no intelligence about plans to harm the pope himself, but there are plans to embarrass the State of Israel or to disrupt public order during this sensitive visit."
Goals of the "sensitive visit"
The Vatican clarified Thursday that the pope during his visit intends to demand the "Palestinian people's right to have a homeland, sovereign and independent."
AFP reports that two of the youths who have had restraining orders slapped against them for thinking of protesting the pope were students of a yeshiva on Mount Zion, likely the Disapora Yeshiva located in the David's Tomb Compound. The pope on Monday will hold "Mass" prayers on the upper floor in the room of the "Last Supper."
Rabbi Avraham Goldstein, the Rosh Yeshiva (dean) of the Diaspora Yeshiva, told Arutz Sheva he has information indicating Israel plans to let Catholics hold fixed prayers in the Compound. The move would prevent Jews from entering the site, given that Jewish law forbids using a building used for idol-worship, a category Catholic worship with its effigies falls under in Jewish law.
8,000 extra police officers are to be guarding the streets of Jerusalem during the pope's visit; the Catholic church has expressed concern over "price tag" vandalism.
However, it has been noted that the pope has been remarkably tight-lipped over the violent persecution of Christians in Palestinian Authority (PA) held Bethlehem, where he will begin his trip in a moved that is said to be meant to "recognize Palestine."