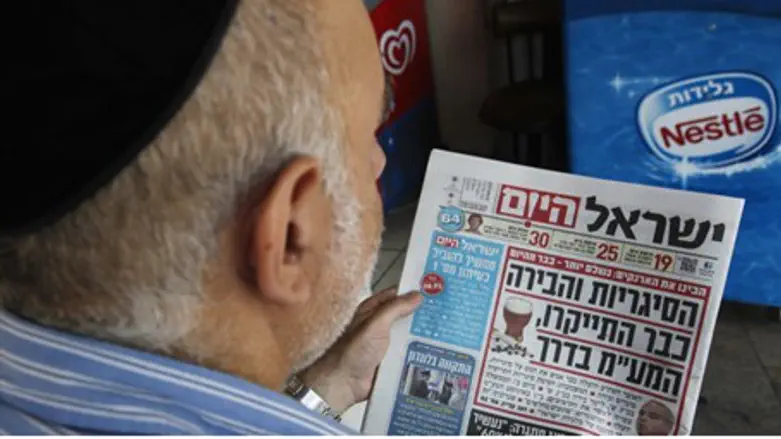 Man reads Israel Hayom
Flash 90
Public opposition is growing to a bill which could ban nationalist newspapers, Israel Hayom reports Friday. 
The poll, conducted by the New Wave Research Institute, demonstrates that the public overwhelmingly supports free speech. Under the bill, which was proposed in March, the four top free newspapers distributed daily in Israel would be banned from continuing to do so for more than six months - without charging the public.
As analysts noted when the bill was proposed, the specific regulations in the bill more or less single out Israel Hayom as the only newspaper which meets the criteria for the ban - a move heavily criticized as monopolizing a left-wing media market. 
Israel Hayom is owned by philanthropist Sheldon Adelson, who is considered to be a friend and supporter of Prime Minister Binyamin Netanyahu. The newspaper's detractors and competitors claim that it is overly protective of Netanyahu – who is often condemned by the rest of Israel's press. 
Outrage has snowballed after several right-wing MKs vocally supported the bill - specifically Jewish Home chairman Naftali Bennett. Bennett called the paper a "communist" publication shortly after the bill was drafted. 
Friday's poll calls into question whether the people support the politics surrounding the bill. About 81% of the public (80.8%) say they oppose the bill, while only 9.5% support it - a 5% increase in opposition to the bill since earlier this month.
Even readers of more "leftist" publications oppose the bill, according to the poll; 81.6% of the public who turns to Yedioth Aharonot for news instead of Israel Hayom oppose the bill, along with 93.8% of Israel Hayom's own readers. 
The public also disagrees with the politicians who advanced the bill, the survey shows. When asked "What is your attitude towards the parties which support this bill?", 57.8% answered that "it will reduce the chance I will vote for that party."
In addition, 77.3% of the public agrees that closing the paper is "not vital for the government to do," and 76.3% believe the bill violates the right to freedom of expression. 70.5% believe the law serves the vested interests of other publications, and only 7.5% believe the law has "public interest at heart." 
48.1% believe that the owners of other newspapers are behind the bill, and 32.1% believe the law is the result of MKs' personal motives and self-interest.