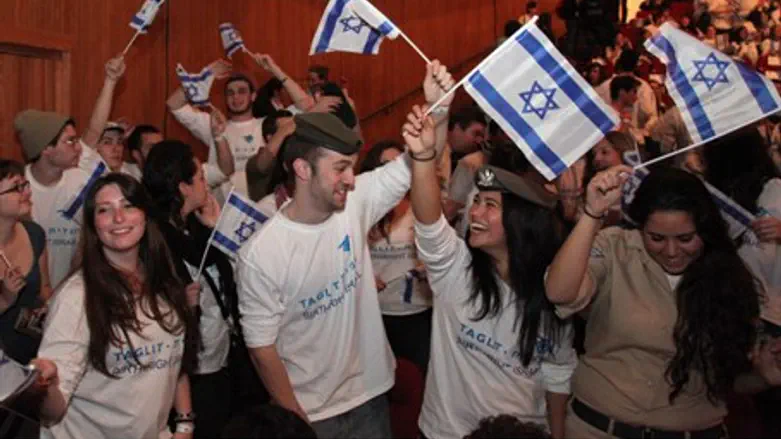 Taglit-Birthright participants (file)
Flash90
The undergraduate judicial board of UCLA ruled on Wednesday against a complaint by the university's chapter of Students for Justice in Palestine (SJP), which was made against two student government officers who apparently opposed a BDS vote.
The 4-0 vote, with two judges abstaining, decided that the officers, Sunny Singh and Lauren Rogers, did not commit a "conflict of interest" by taking sponsored trips to Israel. The full opinion of the judicial board will be released by June 4, reports Jewish Journal.
The two had been accused by SJP in April, after a resolution by the anti-Israel group to divest from companies doing business in Judea and Samaria failed 7-5. While it was a secret ballot, the two officers were presumed to have voted against it.
Singh and Rogers had previously taken free trips to Israel with the Anti-Defamation League (ADL) and the American Jewish Committee (AJC) respectively. SJP apparently claimed the trips had somehow corrupted the officers' ability to decide for or against divestment on the Jewish state.
The Wednesday decision followed a grueling four-and-a-half hour debate last Thursday, during which the two officers underwent cross-examination by SJP's student counsel Dana Saifan.
One point of contention was a liability clause ADL had Singh sign before the trip. When asked why his entire trip application wasn't submitted as evidence in the judicial board case, Singh replied that it was on an old laptop computer he no longer possessed.
The counsel of the two officers called as witnesses ADL regional director Amanda Susskind, as well as Robert Peckar, ex-national board chair of the AJC-sponsored trip Rogers had participated in. The two witnesses argued they had no intention to bring the two to Israel so as to receive benefits from them, and that they never requested they vote against anti-Israel resolutions.
At the student government meeting which voted against the SJP BDS attempt, alumnus Ben Shapiro, Editor-in-Chief of TruthRevolt.org and host of a radio show, spoke up eloquently against the resolution.
"To pretend this is about occupation, to pretend this is about peace, to pretend that this anything other than vile, spiteful Jew hatred is a lie!" Shapiro said at the meeting, which attracted more than 500 people, with the public comment section lasting nearly nine hours.