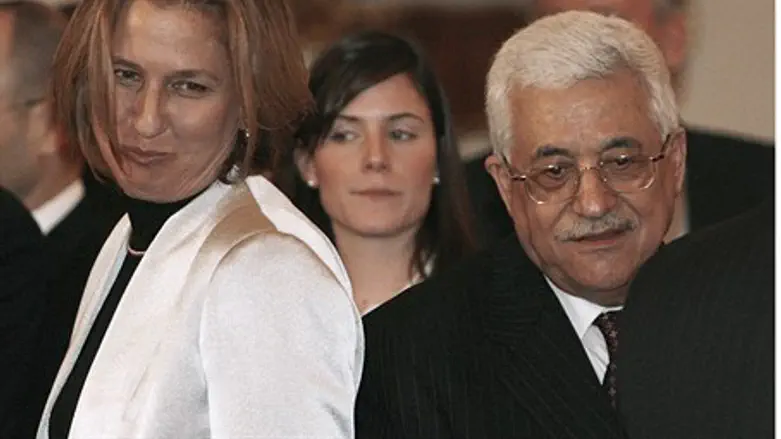 Tzipi Livni and Mahmoud Abbas (file)
Reuters
Prime Minister Binyamin Netanyahu was on the verge of firing Justice Minister Tzipi Livni after her recent meeting with Palestinian Authority Chief Mahmoud Abbas in London – but restrained himself, according to a report in business magazine Maariv This Week.
Livni reportedly met with Abbas last Thursday in London, where she expressed Israel's dissatisfaction with the unity pact he reached with Hamas.The meeting was the first between Abbas and a senior Israeli official since Israel pulled out of the peace talks in response to the Hamas-Fatah unity pact.
According to reports over the weekend, Livni had informed Netanyahu that she was to meet with Abbas. Netanyahu criticized the move, according to those reports, but according to Maariv This Week, Netanyahu had not even been aware of the meeting. When he found out what she was planning, he specifically told her not to meet with Abbas – a directive she subsequently ignored.
Netanyahu was prepared to fire Livni, but changed his mind at the last moment, after sources close to Finance Minister Yair Lapid indicated that her firing would trigger a "coalition crisis."
Livni defended her decision to meet Abbas. "I would like to remind everyone that the conflict isn't over," Livni told HaTnua members during a faction meeting, according to AFP.  "We're still here and the Palestinians are still here. Our interest is to resolve the conflict, and ignoring reality is not an option. "Ignoring the other side, not listening or talking, is irresponsible," Livni insisted. "A resolution is best achieved through direct negotiations, but we can't ignore the agreement between Hamas and Fatah."