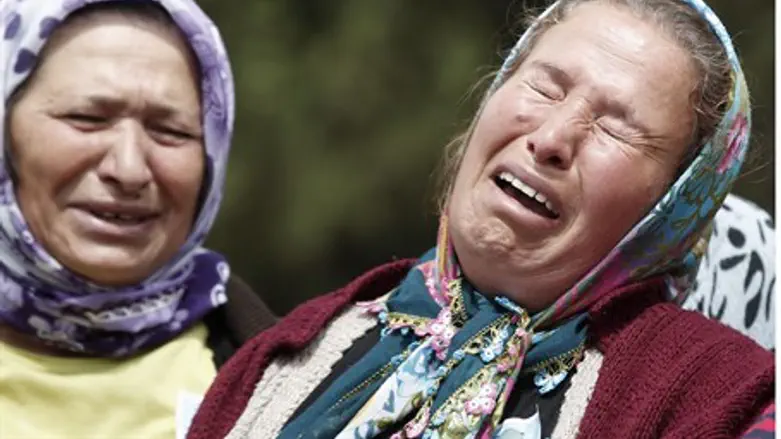 Mourners at funeral for victim of Soma disast
Reuters
A correspondent for Germany's Der Spiegelmagazine has been forced to leave Turkey temporarily after he received thousands of death threats over his article on the country's worst mining disaster.
"Things have become worse. Since Monday, I have got death threats and other kinds of messages," Istanbul-based journalist Hasnain Kazim told AFP in an emailed statement on Wednesday. "People are putting my picture on the web, saying that I am a 'Jewish enemy
of our prime minister'."
In his article, Kazim quoted a miner from the western town of Soma as saying, "Go to hell, Erdogan," in a show of anger at Prime Minister Recep Tayyip Erdogan's response to the mining disaster that claimed 301 lives.
Kazim said he has received over 10,000 threats via e-mail, Facebook and Twitter, several hundred of which were death threats.
"Get out of my country you filthy pig," one Twitter user wrote.
The German reporter said he did not express his or Der Spiegel's views in the article, but simply quoted a mine survivor.
"AKP trolls did not see or did not want to see that this was a quote, but considered me and Der Spiegel to have said that," he added, referring to Erdogan's Justice and Development Party (AKP).
"Unfortunately, several papers and TV channels spread that too: some close to the government, to demonstrate Germany's 'evil' character, some critical of the government for misusing me as their spokesperson."
The pro-government Yeni Safak daily claimed that both the reporter and Der Spiegel were Germany's tool to threaten Turkey's national security.

Erdogan to visit Germany

Kazim, however, rejected media reports that he had been recalled by the magazine.
"I am just spending a few days somewhere else to be on the safe side. In a few days I will be back in Istanbul and continue to do my work," he said.
Turkey's mine tragedy - one of the worst in the country's recent history - has caused a wave of fury against the AKP government that emerged triumphant from March 30 local elections despite a corruption scandal implicating key allies and last year's mass protests.
Photographs of Erdogan aide Yusuf Yerkel kicking a protester have sparked outrage, while images of police firing tear gas and water cannon at protesters in several cities have revived memories of the government's heavy-handed crackdown against nationwide demonstrations in 2013. Erdogan was also filmed yelling anti-Semitic slurs while beating a protestor.
Amid mounting anger over what some said was his "heartless" response to the crisis, Erdogan also faced condemnation and calls to cancel his visit to Germany on Saturday from across Berlin's political spectrum.
Erdogan is due to address supporters in Germany - where three million Turks or people of Turkish origin live - during a visit to the western city
of Cologne.
A senior member of Chancellor Angela Merkel's conservatives, Wolfgang Bosbach, chairman of the Bundestag's interior affairs committee, said the event should be called off.
For the first time, some 2.6 million Turks living abroad - including 1.5 million in Germany - will be able to cast their votes in the August
presidential vote in which Erdogan is expected to stand.
Erdogan, seen by critics as increasingly authoritarian, has blamed international media for wrongly portraying the mass demonstrations that
erupted against his administration across the country last year.
He has branded the turmoil, which left eight people dead and thousands injured, as a plot "hatched by traitors and their foreign accomplices." 
Last year, the BBC expressed concerns about what it called a campaign launched by Turkish authorities to "intimidate its journalists".