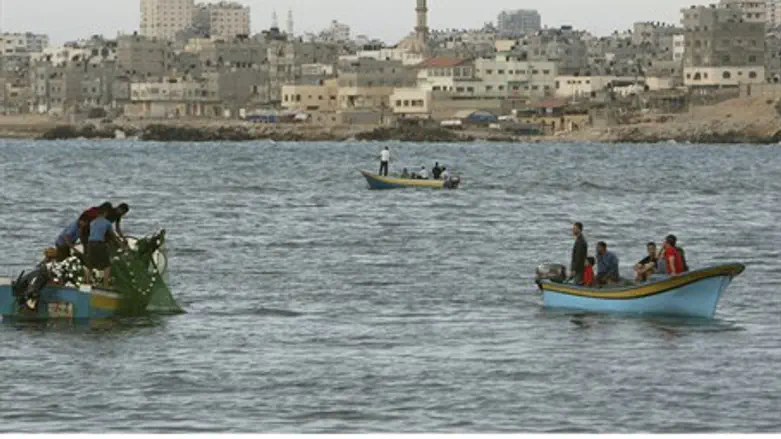 Fishing boats off Gaza
Reuters
An IDF Navy force opened fire Monday at a Palestinian Arab boats that strayed from the permitted zone in the waters off of southern Gaza. The boats were lightly damaged and two of the people aboard them were taken to questioning.
Voice of Israel public radio adds that Gaza Arab media reported that two Palestinian fishermen suffered moderate injuries from shots fired at them by the Egyptian Navy, off of Rafah.
It is not clear if the two reports refer to the same incident, or to two different ones.
Gaza, which is controlled by the Islamist terrorist group Hamas, shares a border with Egypt on the south and with Israel on the east and north, with the Mediterranean sea to the west. Both Israel and the current regime in Egypt are hostile to Hamas, and their naval forces ensure that the regime cannot smuggle in weapons through the sea.
Two Palestinian Arabs were reported wounded in an incident in late March, when Israeli Navy vessels destroyed two Gaza-bound boats "smuggling cigarettes" from Egypt, Palestinian Arab media told AFP.
Palestinian Arab witnesses and medical sources said the navy opened fire at the vessels as they were heading towards Rafah, moderately wounding two people, while the rest of the crew managed to escape.
An Israeli military spokeswoman confirmed the incident, saying an Israeli naval vessel had been damaged by Palestinian gunfire in the exchange. She said naval forces had identified two Palestinian vessels trying to reach southern Gaza from Egyptian territorial waters in a "suspected smuggling attempt."