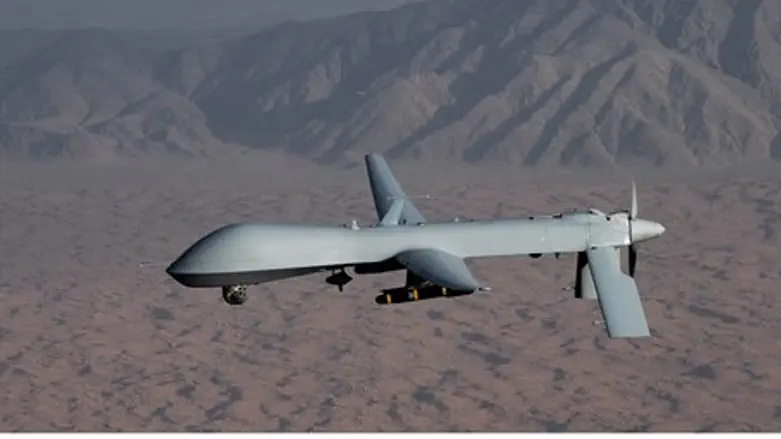 (Illustration) Unmanned drone
Reuters
Israel's police forces have pulled out yet another stop in catching "price tag" perpetrators - this time, spending the State's money on using drones to catch the Jewish extremists instead of fighting actual terrorism. 
Attorney Itamar Ben-Gvir represents Harel Koren, a man arrested on suspicion of an attack on Arab-owned orchards in March. Since then, the attorney says, the police have continuously monitored him using the unmanned aerial vehicle. 
"We prepared to take action against Harel Koren, who has been suspected on previous occasions of damaging Palestinian property, after receiving information that he intended to vandalize trees belonging to Palestinians near the settlement of Eli," a police statement said. The statement noted that a request by Koren to plow the area had been rejected by the High Court for Justice. "To prepare, we readied an observation tool which was designed to track the suspect."
"Since the beginning of the surveillance operation, we have been monitoring Koren on the drone camera," the statement continued, "and [here we see footage proving that] this is where Harel Koren lives, in his home. We saw that [on the date in question] he changed clothing and began to walk eastward, carrying something in his left hand, and then turned northward, toward the outskirts of the [Palestinian settlement of] Talfit." 
"At 10:30 pm we see the suspect stand next to a tree, and seconds later the tree is on fire," the statement alleges. "As he moved south the suspect seemingly set nine more trees ablaze, then ran several paces to the southwest."
The police waited to ambush the suspect, using data gathered from the drone. 
"At 10:40 pm we see what appears to be the suspect's legs moving toward police forces, who are waiting tens of meters from the scene," the statements said. "The suspect realized that police were waiting just meters away from him and began running away. Ground forces then apprehended the suspect, who was later identified as Harel Koren." 
Police attempted to imprison Koren until legal proceedings against him concluded, but Ben-Gvir managed to gain his freedom from police custody, under condition of a restraining order keeping him away from the orchard. 
Ben-Gvir noted Friday that the operation is a tremendous waste of State resources. 
"Without making light of the alleged crime, at this rate, a drone will be launched every time a teenager sprays graffiti on a wall," Ben-Gvir fired. "I understand that there is political pressure [at play here], but the police and prosecution must operate as independent systems and allocate resources according to the gravity of the offenses and not by the amount of articles in the media."