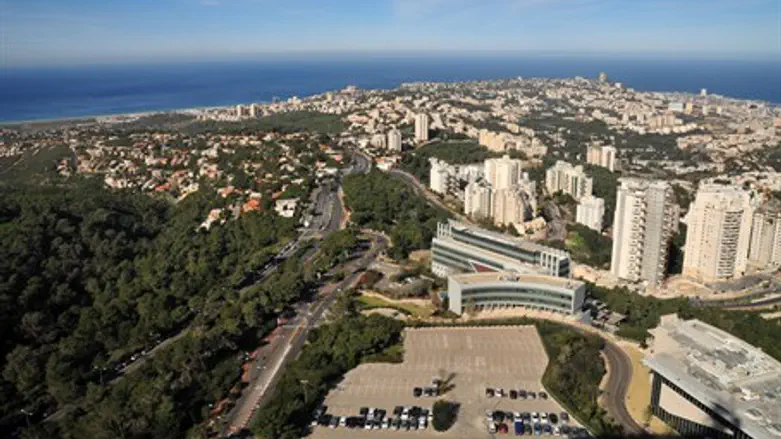 Haifa University
Flash 90
Haifa University on Monday cancelled a planned lecture by convicted Hezbollah terrorist Mohammed Canaana.
The decision, which comes a month after Tel Aviv University cancelled a speech by the same terrorist, outraged Arab student groups who staged a demonstration in protest of the decision.
Canaana served a 30-month prison sentence after being convicted of contacting a foreign agent.
Yossi Mizrahi, chairman of the student union at Haifa University, told Arutz Sheva on Tuesday that the decision to cancel the lecture was due to a fear that it would cause unrest on the campus, though he stressed that the student union believes "in freedom of speech and that everyone has the right to express his opinion."
"The university administration has clear rules and the university's legal adviser has the discretion to approve lectures and content. We understand the administration's decision to cancel the lecture was due to fear that it would cause unrest and a real concern to public safety," added Mizrahi.
He noted that for the most part, Arabs and Jews at the university hold fair debates and get along with one another.
"We want to preserve the status quo. 99 percent of the time there is peace and quiet on the campus, and the students know to behave properly. The student union condemns any attempt to cause a provocation," he told Arutz Sheva.
In 2012, during the counterterrorism Operation Pillar of Defense in Gaza, Haifa University was forced to suspend all public extracurricular activity on campus, after Arab students held a "memorial service" for Ahmed Jaabari, commander of Hamas's military terror wing who was eliminated by the IDF.
Arab students had praised his actions and leadership, and condemned the IDF for "murdering" him. The incident garnered loud criticism from many quarters, including Haifa Mayor Yona Yahav, and this caused the university to restrict public activity on campus.
In 2011, Haifa University canceled a student event which planned to mark the third anniversary of the start of the IDF's Operation Cast Lead in Gaza.
The reason for the cancellation was the fact that the event's organizers termed the operation a "massacre" and a "fascist operation" in the invitations it sent out.