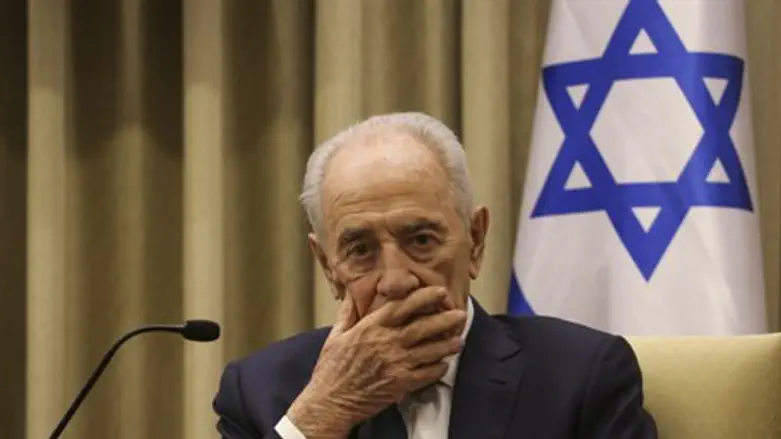 Peres: the last President? (illustrative)
Flash90
MK Zevulun Kalfa (Jewish Home/Bayit Yehudi) has been conducting extensive negotiations with Prime Minister Binyamin Netanyahu to cancel the post of Israeli presidency, it was revealed Monday, ahead of the upcoming elections. 
Kalfa first submitted the bill to the Knesset in February, shortly after current president Shimon Peres announced his retirement this July.
The presidential position is largely a figurehead role, and has cost the State enormous sums of money to maintain. Peres held a birthday party last year that cost 2 million shekels ($450,000), and that his state-funded budget in 2012 was 62.7 million shekels ($17.19 million) - three times the budget of 2000.
Kalfa explained the budgetary costs in his explanation of the push for the posts's cancellation - and added that the president has become, in practice, a political figurehead who nonetheless can interfere with policy-making. 
Peres, for example, has used his position to advocate steadily for "two states for two peoples," insisting that Jews shouldn't fear living under the Palestinian Authority(PA), that PA recognition of Israel as a Jewish state is "unnecessary," and that a peace deal with Palestinian Authority Chairman Mahmoud Abbas was in the works for years - but fell through at the last minute. 
According to Kalfa, several of the presidential functions - meeting with dignitaries, conducting ceremonies, publishing statements for the international community - could also be served by other departments, such as the Ministry of Foreign Affairs. 
"The proposal I submitted serves to fix the spoilage of part of the Israeli government," Kalfa stated. "While we thought that the Israeli government includes the Legislative, Executive, and Judicial branches, a fourth branch has been established without our noticing. "
"When the president says that he has been conducting negotiations for years with Mahmoud Abbas, this is a very serious situation," he added. 
"Any reasonable person would say that this cannot be, that this makes no sense for a civilized country [to conduct itself like this]. My bill does not talk about the postponement of presidential elections, but the cancellation of the institution altogether." 
Several ministers have allegedly expressed some support for Kalfa's ruling - including Economics Minister Naftali Bennett (Jewish Home) and Justice Minister Tzipi Livni (HaTnua), who kicked around the idea earlier this year. 
But at least one minister has utterly rejected the move: Interior Minister Gid'on Sa'ar (Likud). 
"I will oppose any attempt, if such an attempt is made, to postpone the date of the presidential election or cancel the presidency before the vote," Sa'ar wrote on his Facebook page. "You do not change the rules in the middle of the game."