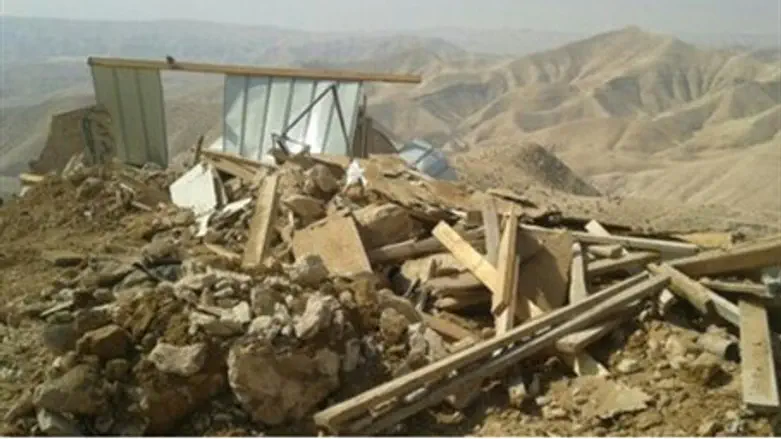 Demolitions in Yissa Beracha
Yosi Ravi - Mitzpe Yericho Secretary
Two buildings and a chicken coop were destroyed Monday morning by the IDF Civil Administration and police in the community of Yissa Beracha, located adjacent to Mitzpe Yericho in the Judean Desert between Jerusalem and the Dead Sea.
Yissa Beracha was established three and a half years ago as an extension of Mitzpe Yericho, and overlooks the Palestinian Authority (PA) controlled city of Jericho. The community has suffered several brutal and violent evictions, although in recent months a family and several singles re-established their presence in two buildings.
As most residents were out at work on Monday morning, the Civil Administration inspectors arrived on the site, where they found a man sleeping in one of the buildings. He was detained and later released.
All of the structures on the site were destroyed, including the two buildings and the chicken coop. Mitzpe Yericho residents have gone to evaluate the damage and to support the residents of the small community.
The Civil Administration issued a statement saying "this morning security forces demolished two illegal buildings that were built without a building permit on the site of previous demolitions."
A security source noted that two wooden structures outside of the delineated borders of the community were destroyed, claiming one housed a couple and the other was unoccupied.
"Again the state of Israel through the Israeli police conducts a 'price tag' against those settling the land," residents of the town charged, referencing the vandalism phenomenon that has captured great media attention of late.
"While on the other side of the highway, Bedouin enemies of the state, with the funding of the European Union, conquer more and more land, building dozens of illegal houses, stealing water and electricity from the state, nobody seems to care," added the residents. "We will continue fulfilling G-d's word, which commands us to settle all of the Land."