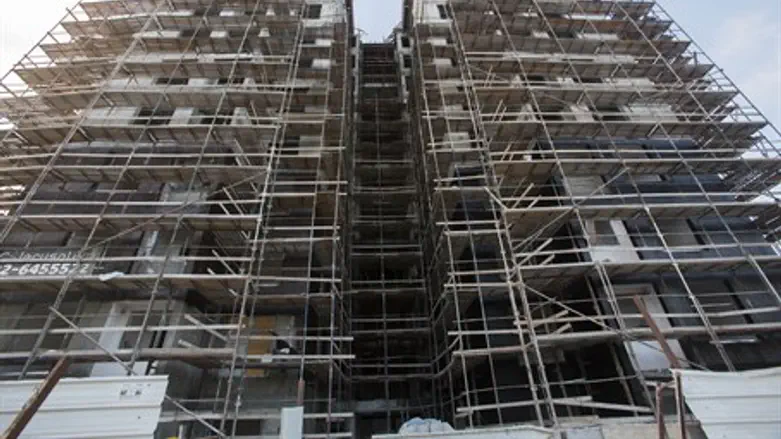 Construction site
Flash 90
As a compromise to ensure that his plan providing a VAT exemption for first-time home buyers is able to stand a court test, Finance Minister Yair Lapid announced Sunday that individuals who have not served in the IDF will also be eligible for the exemption – but only for the purchase of homes up to NIS 600,000 (roughly $170,000) in value.
The new proposal is an extension of an announcement Lapid made in March, which proposed the reduction of the cost of homes for young families. According to the plan, first-time homebuyers would save 18% (the amount of VAT) on homes, and would be prohibited from selling the house for five years.
The exemption will cover homes up to NIS 1.6 million (roughly $450,000) in value, and according to Lapid's original plan, only those who served in the IDF would be eligible – barring hareidi who did not serve and most non-Druze Arab citizens of Israel.
The plan was supported by Housing Minister Uri Ariel, providing the discount was given to all home-buyers, including hareidi and Arab Israelis.
The Attorney General's office said that it did not believe Lapid's plan would stand the test of the High Court, which in the past has barred IDF veterans from receiving benefits that were not available to those who did not serve in the army.
Lapid went back to the drawing board and came up with the new plan, which, according to Lapid's office, was approved by the Attorney General.
However, observers said that Ariel was not a party to the discussions on the amendment to the plan – and would be unlikely to support it, because there were almost no homes available anywhere in the country for families at a price level of NIS 600,000.