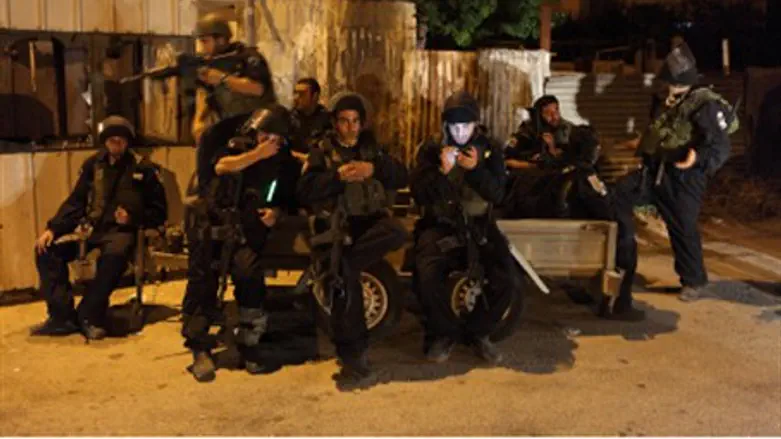 (Illustration) IDF soldiers in Samaria
Israel news photo: Flash 90
Cleared for publication: the Israeli Security Agency (ISA or Shin Bet) nabbed a terror cell planning to carry out a series of kidnappings after their release from prison. The attack, which was in the planning stages, was supposed to take place in April, 2014. 
As part of the operation, the Shin Bet reopened its investigation into Fatah terrorist Abd al-Rahman Uthman, who is serving a life sentence, and arrested Bani Fadil, from Samaria.
After interrogating the suspects, they then arrested two brothers, Ahmad and Nazih Uthman, and his brother in-law Nader Zin Eddin. That, in turn, led to an investigation into Issam Zin-Eddin, who was the partner of Abd al-Rahman Uthman. Both were convicted over a shooting attack in 2006 which killed an Israeli civilian.
Abd al-Rahman Uthman, Issam Zin-Eddin, and another prisoner, Ibd Alatim Ibd Alhaq, began planning the kidnapping operation from behind the walls of an Israeli prison in 2012, according to the investigation. 
The three recruited several fellow terrorists from within prison, as well as funds from Hamas, weapons, and other supplies, in order to carry out their attack after their releases. The plans included stealing a vehicle and meeting with a "sponsor" for the terror attack in Saudi Arabia, as well as kidnapping soldiers on duty at the Ariel, Yitzhar, and Hawara junctions in Samaria. 
Communications were established via cell phones smuggled into the prison walls via family members visiting the incarcerated terrorists. 
Charges against all the many participants in the terror cell were brought to the military court in Sallem. 
Security forces have thwarted dozens of plots to kidnap IDF soldiers since the 2011 prisoner exchange with Hamas, which saw over 1,000 terrorists released in exchange for captive soldier Gilad Schalit. Since then, intelligence services have reported that motivation to kidnap soldiers among terrorist groups have skyrocketed.
Ministers today voted to push ahead with a bill which seeks to put an end to such prisoner releases, by granting judges the option of handing convicted terrorist murderers life without parole.