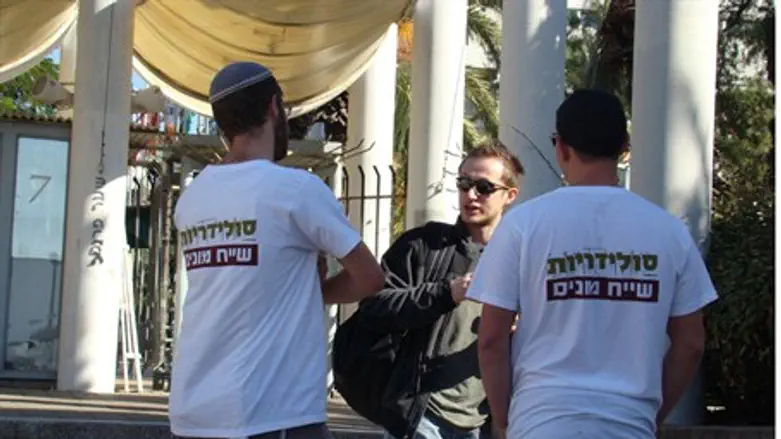 Nationalists at Tel Aviv University
Israel news photo: PR
Pro-Israel students at Tel Aviv University faced off against Arab and leftist students who were commemorating the "Nakba" outside the campus on Sunday morning. The pro-Israel groups held signs and distributed leaflets proclaiming the true intention of the leftist groups – the destruction of the State of Israel.
About 300 Arab and leftist students carried photos of Arabs who fled their homes in 1948, when Israel was established. According to historians, the vast majority of Arabs left their homes and villages at the behest of Arab nations, including Egypt, Syria, and Transjordan, which promised that they would quickly return to distribute the booty taken from the Jews, who by that time would have been "thrown into the sea."
Things didn't quite work out that way, and many of the Arabs who fled ended up in refugee camps in Arab countries, where they were not allowed to become citizens, build permanent homes, or in some cases even work.
One of the leftist protesters said she came to the event to enhance coexistence between Arabs and Jews. "In order for us to live together in harmony we must acknowledge the persecution experienced by the Arabs who were evicted from their homes in 1948. It is a tragedy that continues until today," she said.
But pro-Israel protesters countered that view with historical fact. "What they are really protesting is the establishment of Israel," said a pro-Israel protester. "The facts say different. The Arabs were the ones who rejected the partition of Mandatory Palestine, they are the ones who started all the wars, and they are still trying to destroy us. We are here to fight for the truth," the protester said.
Last week, Arab students at Tel Aviv University desecrated a Memorial Day ceremony honoring the fallen soldiers and terror victims near the university's dorms, shouting out "Allahu Akbar (Allah is great)" and playing Arabic music at full volume in the middle of the event.
The shouting and blaring music clashed with the memorial siren on Sunday night, during a memorial event by students at the university's Einstein dormitory, reports news site 0404.
Following the incident, Jewish students complained of the desecration on the dorm's Facebook page, noting that the Arab students had interrupted the ceremony with the raucous noise from their apartments in the dorms, an act made more heinous by the fact that students at the event included bereaved family members.
According to screenshots posted in the report, Arab students from the dorm responded to the Facebook comments with insulting words, writing "you should be ashamed of yourselves and hold your ceremonies in silence."
They further wrote, "it's our full right to express our religious thoughts when we want to. ...Your ceremony isn't important and isn't worth remembering! Don't be surprised that I and my people aren't looking to be neighbors with racists like you."