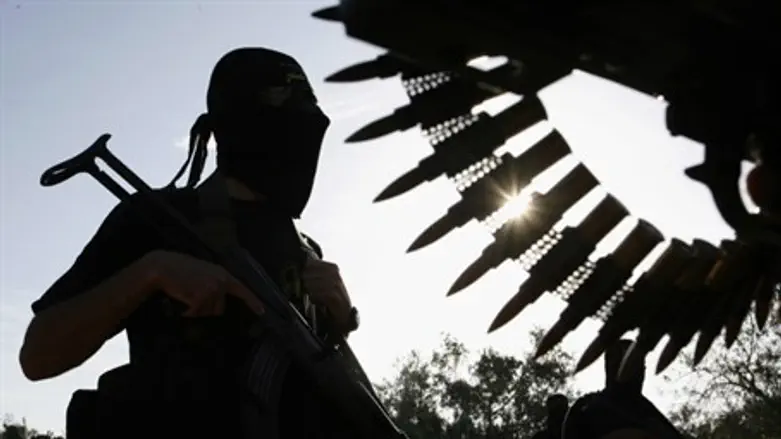 Too afraid to give truthful testimonies?
Flash 90
An article penned last month by a field investigator for rights group Amnesty International has been raising questions about how NGOs report on the Arab-Israeli conflict, after she admitted that Palestinian witnesses regularly lie to investigators.
Donatella Rovera's article was published by Professionals in Humanitarian Assistance and Protection (PHAP), and detailed the challenges facing fact-finding missions in conflict zones.
Among other things, she noted that eyewitnesses are often unreliable either due to the assumptions they themselves make about what they have seen or heard, out of fear of reprisals for telling the truth.
For example, she related how "In Gaza, Lebanon, Libya, Syria, and other places I interviewed civilians who described what they thought were artillery or bomb strikes being launched by far away government forces and striking near their homes – whereas in reality the loud bangs and tremors were caused by mortars or rockets being launched by opposition fighters from their positions nearby.
"For the untrained ear it is virtually impossible to distinguish between incoming and outgoing fire, and all the more so for those who find themselves close to the frontlines."
She also noted how "Fear can lead victims and witnesses to withhold evidence or give deliberately erroneous accounts of incidents."
As an example she cited her own experience in Hamas-run Gaza, where Arab civilians living there are often afraid to go on record saying anything negative about the territory's Islamist rulers.
"In Gaza, I received partial or inaccurate information by relatives of civilians accidentally killed in accidental explosions or by rockets launched by Palestinian armed groups towards Israel that had malfunctioned and of civilians killed by Israeli strikes on nearby Palestinian armed groups' positions," Rovera recalled. "When confronted with other evidence obtained separately, some said they feared reprisals by the armed groups."
She pointed out that even where investigators did not include questionable testimonies in their reports, they should be aware that their overall reports can still be unduly influenced by what they heard.
"Even if they disregard it, investigators must be alert to the fact that disinformation and misinformation can contribute to shaping the perception of events, the narrative surrounding the events, and the behaviour of people who take it in good faith and internalize it, including victims, witnesses, and others potential sources."
Not far enough?
She also admitted that NGOs themselves are often to blame for publicizing false claims, though she insisted that such instances were unintentional and the result of "players and interested parties go[ing] to extraordinary lengths to manipulate or manufacture 'evidence' for both internal and external consumption."
But the Elder of Ziyyon blog, which highlighted the story late last week, accused Rovera of whitewashing the role played by Amnesty and other NGOs in reporting unverified accusations against Israel for political reasons.
"It is a shame that Rovera didn't include Amnesty International itself as being guilty of this, and she ascribes the lack of objectivity almost only to fake evidence that is created by one side rather than to the ideological desire to find war crimes when none exist," it wrote.

"They might strenuously deny it, but Amnesty and HRW [Human Rights Watch] have systemic biases against Israel," it continued, citing several examples of the two groups repeating false allegations of Israeli "war crimes" - including an infamous incident during the IDF's Pillar of Defense operation in Gaza, when a Hamas rocket which killed a child was blamed on Israel.
"This article, while a step in the right direction, only scratches the surface of how NGOs themselves contribute to the culture of lies in order to issue their reports and maintain their funding without doing basic fact checks."
It is a claim regularly made by Israeli officials, who have accused both media outlets and even foreign diplomats of unquestioningly accepting Palestinian claims.
Earlier this year a diplomatic crisis was only narrowly averted after the outgoing head of the European Union parliament claimed in a speech to the Knesset that Israel was unequally distributing water between Jews and Arabs in Judea-Samaria. 
Martin Schulz had heard the claim - which turned out to be false - from Palestinian Authority officials, and Israeli Prime Minister Binyamin Netanyahu responded by saying the incident illustrated how European "fact finding missions" approach accusations made against Israel
"They hear, they don't check, and they hurl accusations," he said.
Simon Plosker, Managing Editor of media watchdog Honest Reporting, said the article revealed that Amnesty and other groups were clearly aware of the problem, but questioned why they were doing little to internalize it.
"Too often, Israel is the victim of half-truths and libels perpetrated by Palestinians hiding behind the veneer of credibility that so-called human rights organizations afford them. If researchers such as Amnesty International's Donatella Rovera are aware of this problem, one can only conclude that delegitimizing Israel's right to self-defense takes priority over reporting the truth."
Rovera's original article can be found here.