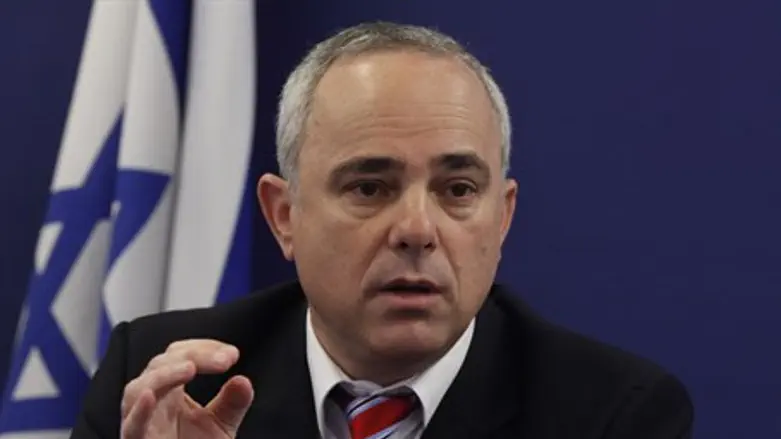 Minister Yuval Steinitz
Flash 90
Minister for Strategic Matters and Intelligence Yuval Steinitz hinted Saturday evening that unknown elements are attempting to sully Israel-US relations with false stories about Israeli spying against the US.
"It appears that someone is trying to sabotage the excellent intelligence cooperation between the United States and Israel," Steintz said. "In all of my meetings with the heads of the American intelligence establishment, and with the political echelon that is in charge of them, I did not hear a single complaint regarding Israeli spying on the US, but only praise for the excellent intelligence cooperation."

Steinitz is due to meet senior US officials this week. He said that he intends to take action to prevent the recent publications from harming relations between Israel and the US. "This Tuesday I will meet the head of the Senate Intelligence Committee and will insist on the need to push back against false publications like this," he promised.
An earlier report in Newsweek cites US "counterspies" as telling Congress that "Israel's espionage activities in America are unrivaled and unseemly... going far beyond activities by other close allies, such as Germany, France, the U.K. and Japan."
"No other country close to the United States continues to cross the line on espionage like the Israelis do," said a former congressional staffer who reportedly attended one of the classified briefings by intelligence officials. The intelligence agencies didn't go into specifics, the former aide told Newsweek, but cited "industrial espionage—folks coming over here on trade missions or with Israeli companies working in collaboration with American companies, [or] intelligence operatives being run directly by the government, which I assume meant out of the [Israeli] Embassy." 
In response, an Israeli official told Voice of Israel radio that the allegations of espionage in the U.S. are false. "Israel is not spying there," he stressed. "The report in Newsweek smells of anti-Semitism, we are portrayed as an enemy country."
Both spying allegation stories were reported by Jeff Stein, a reporter who specializes in espionage.