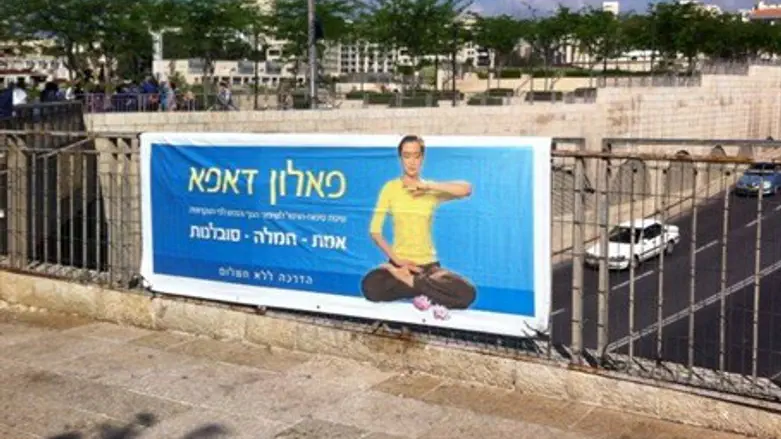 Falun Gong in Jerusalem
Aryeh King Facebook page
Jerusalem Councilman Aryeh King, chairman of the United Jerusalem faction, on Friday morning urged Jerusalem residents to report what he said was a glaring infraction at Jerusalem's Yafo Gate, the main entrance to the Old City.
King posted pictures on his Facebook page of massive posters placed by the Chinese cult Falun Gong, which has been banned in its native China. The pictures were taken Friday morning around 11 a.m.
The councilman called for people to report the "illegal posters" and have them removed from the Yafo Gate, right by the Mamilla Mall.
"Demand that they remove this disgrace from the gates to the Holy City, and help us preserve the sanctity of the city and strengthen the Jewish atmosphere of the city," wrote King.
However, King's claim that the posters were illegal were refuted by Falun Gong activists, who showed Arutz Sheva copies of the permit they received from the Jerusalem police department.
Israel has been developing closer ties with China recently, even as Chinese Jews in Kaifeng last month made headlines for reviving their Jewish heritage.
Falun Gong - "dangerous" or persecuted?
Rabbi Binyamin Kluger of the Yad L'achim anti-missionary organization spoke at a Chinese conference back in 2009, to advise China on how to deal with cults, including Falun Gong.
While noting that there is persecution of the cult by the Chinese authorities, Rabbi Kluger reported "it is far from the extent that is often reported - and in the meantime, this harmful cult receives public sympathy and recognition via the media."
Rabbi Kluger added that Falun Gong is active in Israel, warning "it's a destructive cult in all senses: encouraging the detaching of relations with friends, colleagues and sometimes also family members; saying that doctors cannot cure illnesses because they are 'spiritual' in nature; teaching that the leader is all-knowing and can never be challenged, etc."
The rabbi remarked that while Falung Gong boasted of having 1,000 members in Israel at the time, only 500 or so had practiced some of the group's meditative exercises without understanding the cult's ideology, with the "hard-core" actually numbering less than 60 people.
But Roy Bar Ilan, who manages the Falun Dafa Information Center, said that Yad L'achim's claims are part of "a false campaign of spreading hateful and venomous lies about Falun Dafa around the world."
"Falun Dafa practitioners support free will and independent thinking," he said. "There is no worshiping, no ceremonies, it is practiced for free of charge, and one does not need to list himself anywhere and all are free to come and go as they see fit. Even donations from people aren't allowed. Falun Dafa (also known by the name Falun Gong) is requires to cultivate truthfulness, compassion and tolerance and to practice 5 slow-moving exercises and meditation."
Bar Ilan also noted that a petition calling on the Chinese authorities to end its crackdown on the group was signed by several MKs and rabbis.
Falun Gong posters in Jerusalem
Aryeh King Facebook page
Keeping Jerusalem Jewish
King has been active defending the Jewish nature of Jerusalem.
At the same location, in front of the Old City's Yafo Gate, King on Facebook revealed dozens of food carts selling chametz (leavened bread products) during Passover in April, when such products are forbidden by Jewish law.
Due to public pressure, city inspectors closed down the carts, as Israeli law forbids publicly displaying such goods out of sensitivity to the Jewish nature of the state.
King similarly was able to exert pressure on the Municipality through Facebook when he reported that the city had been turned into "Damascus," after public signs were painted by the Municipality in Arabic only, again not far from the Yafo Gate.
The Facebook campaign led to the signs being switched to Hebrew, given that Israeli law requires that official signs be written in Hebrew, the official language.