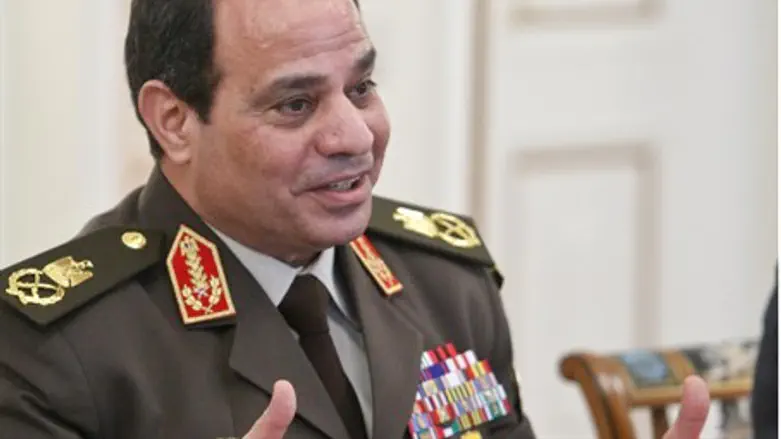 Abdel Fattah al-Sisi
Reuters
Egypt's ex-army chief and leading presidential candidate Abdel Fattah Al-Sisi warned the Egyptian press not to expect journalistic freedom under his rule.
Speaking at a meeting of editors of Egypt's major newspapers on Thursday, Sisi told the journalists not to "scare people" or breed "skepticism" in the interests of national security. The statements were reported by Al Jazeera, the Qatar-based news outlet that has fallen out of favor in Egypt for alleged Muslim Brotherhood connections.
Sisi argued that "there should be a balance between the practice and the freedoms (of journalism,) and national security." The former military leader also warned the editors not to expose corruption or press for reforms.
"Give officials a chance for, say, four months," Sisi said. "If you have information or a subject you need to whisper in the ear (of officials), it is possible to do that without exposing it."
"Our problem is that we call up images of Western democracies that have been stable for hundreds of years and drop them into our reality," Sisi said, adding that Egypt might need "20 or 25 years to reach a stage of complete democracy."
Returning to a military dictatorship?
Former Egyptian Prime Minister Ahmed Shafik in March revealed that the upcoming election will be rigged for Sisi, saying he had decided to take himself out of the running. The revelation raised fears that Egypt is returning to a military dictatorship.
It should be noted that three Al Jazeera journalists have been jailed by Egypt for 132 days, while an Al Jazeera correspondent has been held without trial for 268 days. They have been charged with supporting the Muslim Brotherhood, and are awaiting a May 15 trial.
The accusations come amid a government crackdown on the Muslim Brotherhood; indeed Sisi on Monday promised the group would not be allowed to exist in Egypt if he wins the upcoming May 26-27 elections, in which he is strongly favored over his lone contender.
Egypt last month sentenced 683 Muslim Brotherhood members to death. 529 Muslim Brotherhood supporters were sentenced to death the month before, with 37 death sentences upheld and the other 492 mostly commuted to life in prison. Most of the people sentenced were tried in absentia.
Journalists have not been immune from the clashes between the government and the Muslim Brotherhood.
An Egyptian female journalist of the privately owned Al-Dustour newspaper was shot in the head while covering clashes in Cairo over Sisi's presidential bid in late March.
On the international front, Sisi on Saturday declared that if Israel won't recognize the "state of Palestine," with its capital in Jerusalem, he will never visit Israel. In the same statement he gave lip service that he would "respect" the peace treaty with Israel.