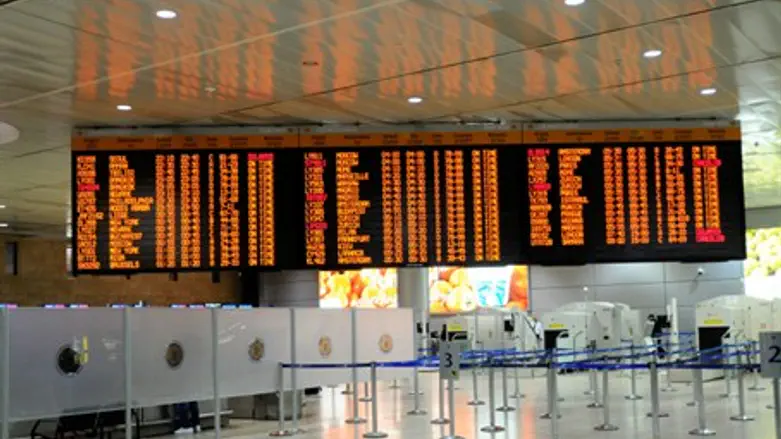 Ben Gurion Airport
Flash 90
Passengers who were stood up by El-Al pilots in Tel Aviv's Ben-Gurion Airport are facing a long stay ahead on Friday, as several replacement flights for the stranded travelers have yet to be found. 
Walla! reports that while the airline managed to find a replacement flight for passengers headed to Budapest, travelers destined for Munich, Bucharest, and London's Luton Airport remained marooned in Tel Aviv.
Hundreds of passengers were shocked to discover Thursday night that their flights would be postponed after several pilots never showed up for work. El-Al stated that the absences are likely a protest over a work dispute. 
While the work dispute has yet to be resolved, the airline has managed to arrange the rest of Friday's previously scheduled flights, which are resuming as usual. 
Meanwhile, Israeli media reported, the airline seems to be aware of the damage the missed flights could have to its image as an international carrier. Police forces rushed ahead of the stranded passengers in Check-In lines Friday, helping them avoid the media.
However, passengers are not pleased. 
"This is terrible, being stuck in the airport with a group of twelve year-olds," Andrea Aderet, a tourist and chaperone from New York, told Walla!. "We were prepared for the worst, but this is a problem. This is a group of eighth graders who came to the airport for two weeks and now want to go home. It's a little difficult to move them to the airport to spend the night."