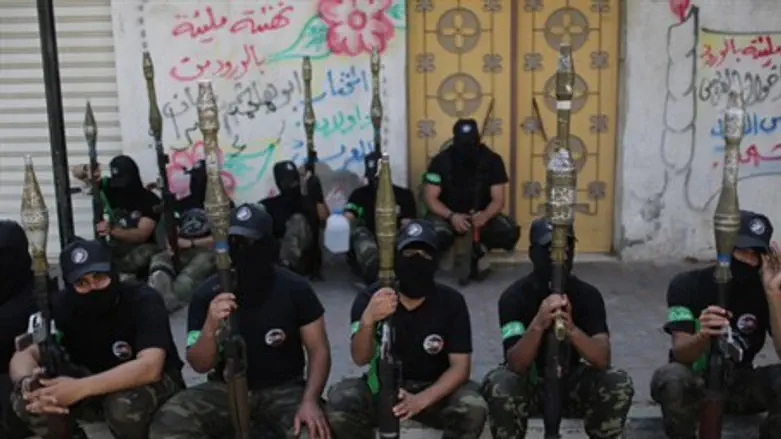 Hamas terrorists
Flash 90
Now that Hamas and Fatah have signed a unity pact, the former chief prosecutor of the International Criminal Court (ICC) on Wednesday warned the Palestinian Authority (PA) to proceed with caution with regards to pursuing war crimes against Israel.
According to The Associated Press (AP), Luis Moreno-Ocampo said that the PA is indeed eligible to join the ICC after it was accepted as a non-member observer state at the United Nations in 2012.
He added, however, that if the PA accepts the ICC's jurisdiction, Gaza's Islamist Hamas rulers also could be investigated for rocket fire and suicide bombings against Israeli civilians.
Ocampo, who is on his first visit to Israel, recommended the sides avoid the court and find a "creative" way to resolve their differences, according to AP.
Last Friday, the PA officially became a party to five global treaties banning torture and racial discrimination, and protecting the rights of women, children and the disabled.
On April 2, the PA requested to join 15 international agencies in breach of the conditions of the peace talks with Israel. In response, Israel cancelled the fourth terrorist release "gesture" and subsequently pulled out of the talks altogether, after the PA signed the unity pact with Hamas.
Subsequently, the Palestine Liberation Organization's (PLO) central council adopted a plan to pursue attempts to join 60 United Nations bodies and international agreements.
The PA's UN envoy has claimed that the PA is eligible to join up to 550 international treaties and conventions, including the ICC.
Shurat Hadin, a non-governmental organization that operates against terrorists through the courts, later warned it would lodge 'a tsunami' of criminal complaints against senior PA officials, should the PA go through with its application to join the ICC.